Voith Turbo returned to Seawork International with positive news about its Voith Linear Jet (VLJ) after its 12 months' trial with Turbine Transfers' vessel, Trearddur Bay.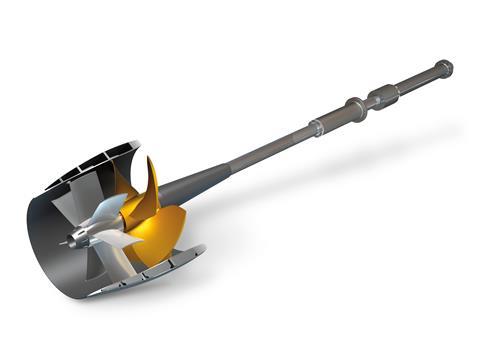 The company's marine engineers have concluded that the VLJ is now a proven product for crew transfer vessels working on offshore wind farms following its installation on the support catamaran.
Mark Harvey, Voith Turbo's marine manager, said: "The VLJ cannot only save owners and operators £75,000 in a season but it can also produce better transit speed, more bollard pull, more thrust and less noise and vibration."
"Logs from 907 hours' operation working for Dong Energy in a wide variety of conditions in the North Sea proved that the VLJ out-performs similar vessels using conventional propulsion systems."
The VLJ, was launched at Seawork 2015, and harnesses the elements of two existing technologies, conventional screw propellers and water jets.
It is designed to be assembled semi-integrated into the hull providing benefits of reduced draught, acoustic shielding and reduced pressure pulses. Key benefits include its aim to provide lower fuel burn than vessels with water jets or propellers.
Data collected by the company showed that the VLJ spent 60% of its time in transit at approximately 28 knots and the rest of the time pushing up against structures.
Mr Harvey explained: "Conventional water jets can achieve eight tonnes bollard pull at 90 per cent maximum continuous rating, but the VLJ can do eight tonnes at only 50 to 60 per cent MCR."
"So the VLJ is not putting as much stress on the engine, resulting in less engine wear and less fuel being used."
He also argued that this meant the VLJ was safer because if more power was needed it has plenty in reserve compared to a water jet which would have nothing left.
"In fact while a conventional jet could achieve eight tonnes bollard pull, the VLJ could get to 12.5 tonnes at the same MCR," added Mr Harvey.
Despite the vessel spending much of its time working in the sand of the Grimsby areas the data recorded was hugely positive for Voith Turbo.
"The inspections showed almost no marine growth, no measurable wear on bearings, no "blade" tip wear, no damage to the leading edge, and no corrosion," said Mr Harvey.
He concluded: "The nozzle, shaft, and rotor are manufactured in Duplex stainless steel and are designed to last the life of the vessel," said Mark. "This only leaves the wear parts of seals, bearings and nozzle – and we are confident about their reliability."
By Alice Mason