Vallianz Holdings and SeaTech Solutions have teamed up to develop an all-electric tug targeting a CAPEX increase of just 20% and lower life cycle costs.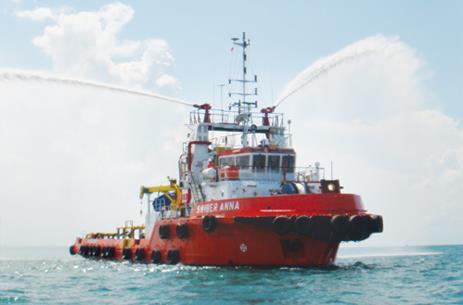 "Technology for electric vessels is available, and the real challenge is to develop a cost-effective total logistics solution": the words of SeaTech director Govinder Chopra describing the challenge of moving from traditional shiphandling tug operations, embedded in generations of tradition to more environmentally friendly and sustainable operations while absorbing inevitable increased investment in the new technology required, this at a time when margins are increasingly tight in a highly competitive industry.
Vallianz operates over 60 vessels in the Middle East, North Africa and Central and Southeast Asia while SeaTech is described as 'a centre of excellence in vessel design'. Both companies are based in Singapore but the challenge mentioned is relevant globally as the popularity of electric and hybrid tugs grows. The partnership aims to support vessel owners in complying with IMO's 2030 and 2050 targets to reduce the shipping industry's carbon footprint over coming decades.
The MOU will run for two years to develop 'the next generation of environmentally-friendly harbour tugs based on SeaTech's EVT-60 design.' Rather than adapting past designs the 'e-tug' will be a brand-new concept with battery power delivery optimised according to real-time power demand. The vessel will have a LOA of 26m, beam 12.8m and provide 60tbp and speed 12kn in an ASD/azimuth propulsion arrangement with high-capacity battery modules providing sufficient power for its operational profile. Once developed, Vallianz will utilise its own shipyard Vallianz PT USP to begin preparation works for potential clients and the partnership with SeaTech marks Vallianz's first step into development of electric vessels.
The design will be in accordance with American Bureau of Shipping's Guide for Use of Lithium Batteries in the Marine and Offshore Industries along with its Guide for Hybrid Electric Power Systems for Marine and Offshore Applications and Gareth Burton, technology vice president, ABS comments: 'Hybrid electric power systems offer the opportunity to improve safety, reliability, operational efficiency and reduce fuel consumption, environmental footprint and equipment maintenance when compared to traditional power systems. ABS has long supported shipowners looking to utilise this technology and is an industry leader in developing guidance that advances safer integration of hybrid power systems into marine and offshore assets.'
By Peter Barker