Rostock is expecting the delivery of its first emission-free, electric-solar driven catamaran ferry in July, writes Tom Todd.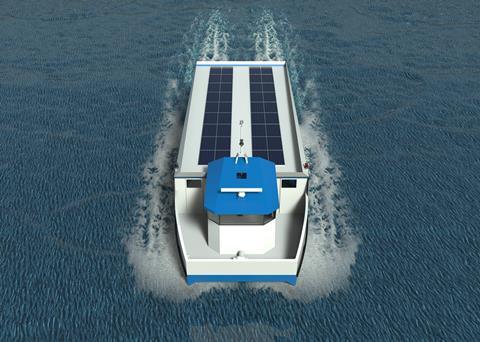 Rostock City spokesman Ulrich Kunze told Maritime Journal as the 21m x 6.6m boat was being finished off that its builders, specialist ship and steel construction concern Ostseestaal in nearby Stralsund, had "so far fulfilled all our quality demands". Delivery of the ferry was "on target" for the end of July and Rostock was very satisfied with construction progress to date on such a "high quality product", he declared.
Although it has praise for the new catamaran, Rostock has already said it is a replacement for a ferry in operation since 1998 and that further hybrid electric-solar boats are not currently being considered. Kunze made that clear again as the new boat neared completion this year saying "Rostock currently has no need or plans for further ships of this type".
It will nonetheless be a unique addition to Rostock's commuter transport operations and one which Rostock Environment Senator Holger Matthäus has described as "a pioneering move" for the region.
The ferry is being built on a design by Ostseestaal's sister company Ampereship and although owned by the City of Rostock it will be operated by local shipping company Reederei Antaris.
Built on an aluminium hull it is the eleventh electric eco-ferry to be built by Ostseestaal and Ampereship. Fully electric and emission-free, its two redundant RP-AS 45, 45kW, 360 degree rotating rudder propeller systems will get their power from high-voltage 252kWh Lithium batteries, charged overnight at modernised mooring points, and from 34 solar panels of total 12kWp mounted on the ferry roof. Officials said that on sunny days up to half of the required energy will be solar and that up to 36,000 litres of diesel and 95 tons of CO2 a year will be saved as noise is also reduced in urban Rostock.
Top speed is given as14kms/h although only a service speed of 7.5kms/h will be required for the half kilometre journey the ferry will will regularly make between Gehlsdorf and Kabutzenhof in Rostock's Stadthafen on the Warnow River, inland from Rostock port. It will carry 80 passengers and 15 bicycles.