The second of three dual-fuel tugs for Norwegian tug owner Østensjø Rederi has been launched at the shipyard of Astilleros Gondán in Spain.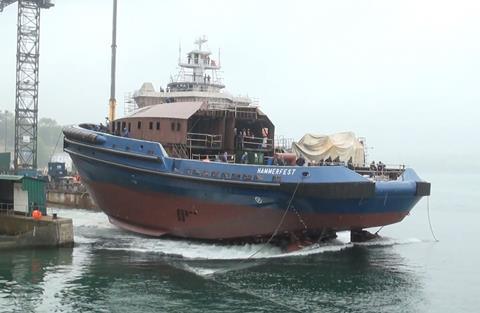 In December 2014 this column reported that Østensjø Rederi had been awarded a long-term contract for provision of towing and mooring services for Statoil at the Melkøya LNG terminal in Norway. On the back of that contract an order was placed for three 110tbp dual-fuel escort tugs, and the second of the trio has now taken to the water at Gondán Shipyard.
The choice of LNG as fuel for the majority of the tugs' day-to-day operations is natural given Norway's experience with the adoption of LNG technology in a number of sectors of its shipping industry. The three newcomers will be capable of running on diesel providing a degree of flexibility and operational security, they will also be the first dual-fuel tugs built in Europe.
The trio are RAstar 4000 DF designs from Robert Allan Ltd and will be 40.2m long on a beam of 16m. Built to withstand extreme conditions, the series are shaped specifically to provide full operational availability at temperatures of -20'. Over the next few months this second vessel will join tug number one at the yard's fitting-out quay where they will be completed to Østensjø's requirements. Final sea trials will follow with delivery due early in 2017. Two smaller 5tbp mooring launches are included in the contract which is for ten years with five optional years.
Johan Roskstad CEO of Østensjø Rederi stated they were pleased with the award adding: 'We have provided tug services to Statoil for many years, and we are proud to still be a preferred partner for them in competition with national and international operators. Furthermore, it is particularly pleasing that we can supply vessels with a green profile.'
By Peter Barker