The Netherlands with its extensive network of inland waterways has taken a lead in promoting emission free electric vessels and further proof of this is seen with an order for a 15 metre electric patrol boat writes Dag Pike.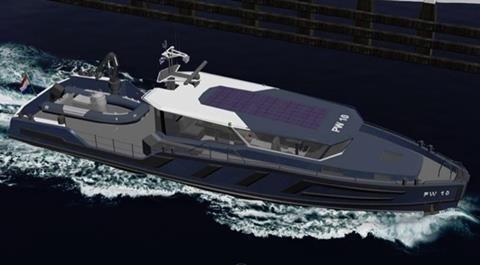 Commissioned by the province of Friesland in the north of the country this patrol boat has been designed by the experienced team at Vripack and it follows on from experience with a 19 metre electric patrol boat that was recently delivered by the Niestern Sander shipyard. To be called PW10 this patrol boat is being designed to be capable of carrying out extensive patrol duties such as escorting large vessels, inspecting shipping, monitoring water sport events and assisting and directing emergency situations when they arise.
It is planned that PW10 will have a battery pack with sufficient capacity to carry out a full range of patrol duties during the day and then be recharged overnight from shore power. To add to the green credentials this recharging will use electric power from renewable sources and the daytime operational charge of the batteries will be supplemented by 10 solar panels attached to the top of the vessel. The design has been developed so that at a later date the vessel can be converted to operate on electric power from a hydrogen fuel cell unit.
The contract for the building of PW10 has been placed with the Talsma Shipyard. Currently they are in the process of finalising the design and it is likely that the propulsion will follow the system used in the 19 metre vessel with electric propulsion units being supplied by Hydrosta, where the electric motor drives a vertical drive shaft that connects to a propeller that can rotate through 360° to give exceptional manuoueverability.
Much of the material used for the fitting out of the vessel will be made from recycled materials such as bamboo and recycled plastics. The heating required for winter operations will come from a heat pump similar to those used for heating houses. This will reduce the drain on the batteries.
Gerard Cnossen, Commercial Manager at Talsma, said, "It's great that a Frisian shipyard is building this innovative ship. In addition to direct employment for us, this assignment can be a spin-off for future projects."