The DP3 Cable Laying Vessel, 'Nexans Aurora', was named at Norway's Ulstein Verft on 8 June 2021.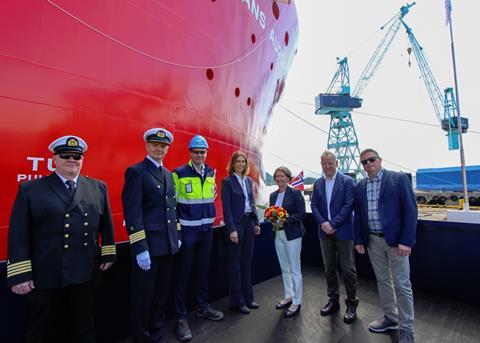 Despite the Covid-19 pandemic, the project progress has been steady, and the vessel was delivered on time on 31 May 2021, three years after the signing of the shipbuilding contract.
"We are grateful to have been awarded this contract from Nexans. The successful completion of the project fortifies Ulstein's position as a world leader within construction of this type of specialised vessel. This achievement is also a result of the complete maritime cluster in this area. The close dialogue and cooperation within this highly competent environment results in reduced lead time and are important elements to ensure good progress. "In addition, the cooperation between Ulstein, Nexans and the designer, Skipsteknisk, has been crucial for a successful project" said CEO Ulstein Group, Cathrine Kristiseter Marti.
The 149.9m long and 31m wide vessel boasts over 10,000 tons of cable load capacity and is fitted with state-of-the-art instruments for cable transport, installation, and protection.
Once launched, CLV Nexans Aurora will lay export cables for offshore wind farms and interconnectors around the world like for the Seagreen OWF in Scotland, the Crete-Attica interconnector in Greece and the Empire Offshore Wind project in US.
By Jake Frith