Diesel giant MTU presented its new 16-cylinder Series 8000 marine diesel engine for the first time at the Euronaval trade show in Paris at the end of October 2016. The engine will have a maximum power output of 8,000 kW.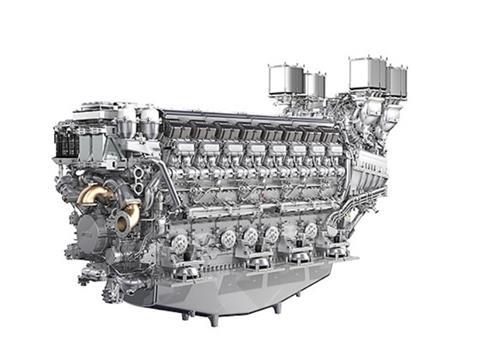 Knut Müller, Head of the Marine and Government Business Division at MTU, said: "With the launch of the new 16V 8000 engine, we are expanding our portfolio in the very high power class for our customers in the naval industry and are offering at the same time a highly efficient ABS-NVR-certified diesel engine."
The new 16-cylinder engine is based on the well-proven Series 8000 engine. The 20-cylinder engines currently available (with a maximum power output of 10,000 kW) are the top-selling propulsion engines in their power class for naval vessels. They have altogether completed over 1 million operating hours. With a maximum power output of 8,000 kW at 1,150 rpm, the new engine has been designed primarily for government vessels, but also ferries and large yachts.
As is the case with the 20-cylinder version, the 16V 8000 engine features low overall operating costs, high power density and environmental compatibility. Common rail fuel injection combined with the electronic engine control system make it possible to achieve fuel consumption levels of less than 200 g/kWh and very low exhaust emissions. The engine meets the requirements of the IMO Tier II and EPA Tier II emission regulations and, with additional modifications, will also meet other standards as required. Series 8000 engines are certified as marine engines in accordance with all accepted classification standards worldwide.
They were also awarded Naval Vessel Rules (NVR) certification by the American Bureau of Shipping (ABS) in 2014 and are subsequently the first advanced technology engines in this power class to meet the stringent requirements of this certification. "Some of our customers are very interested in an ABS-NVR-certified engine in the power range of the new 16V Series 8000 engine. This engine meets the requirement profile of the Navies extremely well, also due to its ability to run for long periods in light load mode", Knut Müller explained.
Common rail fuel injection, which is also used in the Series 8000 engines, allows all injection parameters to be independently controlled, resulting in a substantial reduction of fuel consumption and emission levels over the entire power curve. Structure-borne engine noise at idling speed or in the partial load range is significantly lower compared with that of engines fitted with conventional injection systems, MTU claims.
Series 8000 engines are also monitored and controlled by an electronic engine management system designed to ensure optimum control of all engine functions and to provide the basis for a trend analysis and diagnostics system. The engine can also be integrated into a comprehensive control and monitoring system for the entire propulsion plant and other ship systems.
By Jake Frith