Netherlands-headquartered Damen Shipyards Group has secured an order with German heavy lift company Combi Lift to build a total of 19 specially customised shallow draught vessels.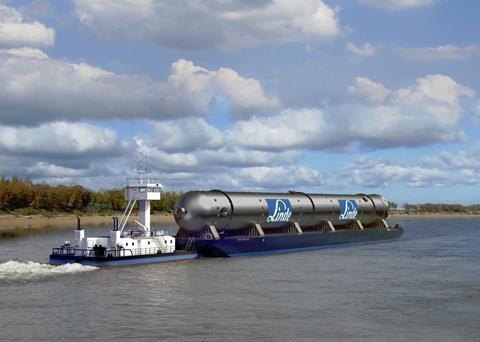 The vessels will be used to transport oversized and heavy lift cargo for the Gazprom Amur Gas Processing Plant Project in the Russian Far East. The multiple vessel order comprises four Multi Cats 2608SD, four Pusher Tugs 2612SD, seven Stan Pontoons 8916SD and four Side Floaters 8605SD.
Combi Lift's role in the Gazprom Amur Gas Processing Plant Project will be to transport over 176,000 tonnes of cargo from different production locations, over the sea to Russia and along the Amur and Zeya Rivers to the end-destination. The demanding scale of the work and the local geographical conditions have both had an influence on the designs of the Damen vessels.
For example, the project involves some significant heavy river transportation. Included in Combi Lift's scope of work is the lifting and transportation of twelve columns, each weighing 900 tonnes. Furthermore, certain stretches of the Amur and Zeya Rivers can be very shallow. These conditions can also be compounded with severe weather conditions and winter ice.
Due to the specific demands of the local environmental conditions and the project itself, Damen is making a number of adaptations to these vessels from its standardised portfolio.
By Jake Frith