'Inkanyamba', a 20m Monohull Workboat, has recently been delivered to the Armaments Corporation of South Africa (ARMSCOR).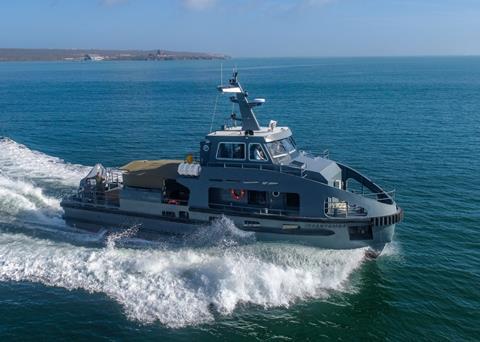 Built by Cape Town shipbuilder Veecraft Marine, and designed by Australian naval architects Incat Crowther, the vessel will be tasked by the South African National Defence Force (SANDF) with the transportation of personnel, equipment and also support training activities in coastal waters up to 10 miles off the coast under inclement weather conditions often experienced in the area. The vessel is designed in accordance with BV requirements and in compliance with flag state rules as defined by South African Maritime Authority (SAMSA) for Category C vessels.
The main deck features a forward deckhouse with wheelhouse above and a generous 25m2 aft cargo deck. The modestly sized deckhouse is fitted with galley and mess areas along with two toilets and a deck locker accessible from the cargo deck. The wheelhouse is arranged for 360-degree visibility, including an unobstructed view of the cargo deck.
The cargo deck of the aluminium vessel is able to accommodate a 6m ISO container and is also fitted with a 5t marine crane. A foldable dive platform is fitted aft of the transom along with stairs integrated into the main deck to provide safe access.
Below deck includes two 7.5 cubic metre cargo holds with access hatches above, engine room, fuel and water tanks, and overnight accommodations. The overnight accommodation features three staterooms for a total capacity of twelve personnel.
Other notable features include a robust fendering system and heavy towing bollards on each end of the vessel.
With a service speed of 15 knots at a substantial deadweight load of 20 tonnes, the vessel is powered by two MAN D2862 LE431 marine engines rated at 588kW @ 1800rpm driving Teignbridge fixed pitch propellers through ZF 2050 gearboxes.
Inkanyamba is the twelfth Incat Crowther vessel built by Veecraft in less than a decade.
By Jake Frith