The German Government has given the go-ahead for work costing €240 million to demolish old locks in Kiel-Holtenau at the Baltic end of the Kiel Canal and replace them with brand new lock chambers.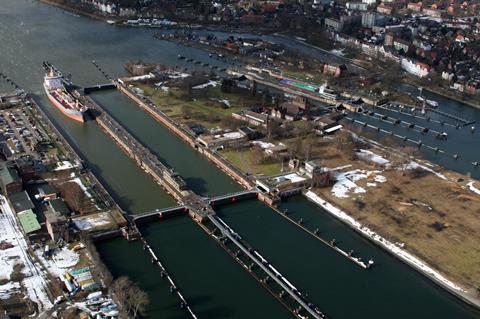 The move is part of plans to renovate the entire Kiel-Holtenau lock complex on the 98 year old canal, the busiest man-made waterway in the world. It links the Baltic and North Seas, saving ships a 460 kms trip around Skagerrak but has been plagued of late by lock problems.
The two 125m x 22m chambers of Holtenau's small lock, built in 1895, will be demolished down to their concrete bases and new ones built on the same spot as part of investment now approved by Berlin. After that, the plan is to renovate Holtenau's big 310m x 42m lock chambers, Claudia Thoma, spokeswoman for the German waterways and shipping authority WSD, told Maritime Journal.
The small locks are being tackled first because, once rebuilt, 60-70% of the traffic in Holtenau will be able to use them, bypassing the big locks while they are also rebuilt. More than 30,000 ships a year use the Canal.
Authorities have long discussed the renovation of the crumbling old Holtenau locks. Professor Hans-Heinrich Witte, who heads the WSD office in Kiel, was quoted as saying "what we had hoped for has now become a certainty". Schleswig-Holstein Government head Torsten Albig said the move demonstrated that Germany was not only able to recognise problems, but solve them as well.
Witte told German media it had become clear that sooner or later the small locks in Kiel would no longer be able to operate. They are already in danger of collapse. Cracks appeared in 2013 and they were temporarily closed. Repair costs were put at €60 million.
The replacement work now announced will begin in autumn 2018. A spokesman for Kiel waterways and shipping authorities responsible for the project said the new chambers will be better than the old because they will have eight gates instead of 16 at present. That will increase the useable lock length from 125m to 155m, he said. The old chambers also have curved rather than squared bottoms which restrict draught. The new ones will get flat bottoms which will permit draughts of six metres across the entire width and mean more ships can use them.
At the southwestern, North Sea, end of the Canal in Brunsbüttel on the Elbe, construction of a new fifth lock is well under way following earlier Government funding. That new 360m x 42m facility is expected to open in 2020 after which work will take place on adjacent locks in that complex – which are just as old as those in Kiel.
By Tom Todd