German ROV manufacturer Mariscope Meerestechnik's recent delivery of an applied acoustics Alpha USBL system marks a significant milestone in their partnership with applied acoustics and the aae technologies group.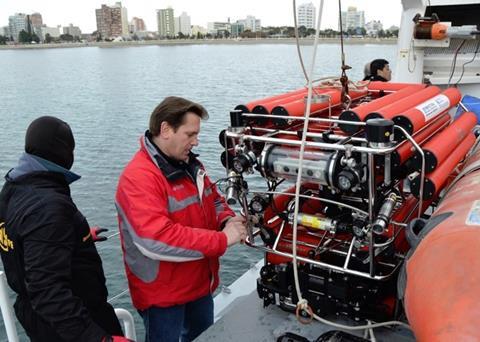 This delivery is the 25th such system that Mariscope have acquired for integration into their range of subsea vehicles.
Established in 1994 by Christian Haag, Mariscope has become a leading name in the field of ocean robotics and like aae technologies, proudly promotes its independence and flexibility. In a relationship spanning several years, aae technologies and Mariscope have developed a good understanding of each other's businesses, enabling the continual and seamless supply of appropriate USBL systems for Mariscope's engineers to incorporate into the ROV's at factory level.
The bulk of these systems have been shipped to Mariscope's South American subsidiary, Mariscope Ingenieria based in Puerto Montt, Chile, in support of the region's burgeoning aquaculture industry, an industry that relies heavily on ROV intervention for the inspection and cleaning of salmon enclosures and their mooring lines. USBL tracking is a critical feature of these inspections as it gives the operators and service providers real time positional data of the vehicles as they carry out their surveillance.
By Jake Frith