Recently opened in Rotterdam is a facility that is claimed to be able to produce ships propellers by using 3D metal printing techniques.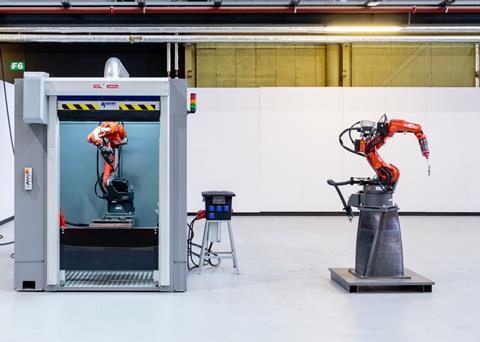 Previously propellers have been produced by 3D printing but only using advanced plastic materials so that the manufacture has tended to be limited to small sizes. The new facility will not only be able to produce propellers in steel but will also be able to produce units up to two metres in diameter.
Called RAMLAB, the new facility in Rotterdam is not only unique in that it is a manufacturing lab, but it is also serving a specific purpose as it was created for the maritime industry. It has been opened at RDM Rotterdam in the Innovation Dock which has been developed by the Port of Rotterdam.
RAMLAB has been opened with the purpose of accelerating and encouraging the use of 3D printing. The team believes that 3D printing/additive manufacturing will reshape industry, and one of the major benefits of the system is that it allows for incredible customisation and the creation of new geometries to create more sustainable products. Greater affordability is of course a major bonus all around, and one that will motivate many different individuals and groups to give it a try.
The machine is based on WAAM (Wire Arc Additive Technology) which, at present, is the most suitable technology for the production of large metal parts, using a solid freeform method of creation. The electric arc acts as the source of heat, with the steel wire functioning as the feedstock. This system allows for faster production and is less expensive than established metal casting systems and is particularly economical when one-off components such as propellers are required.
According to the RAMLAB team, this method will allow for steel objects to be printed easily on pieces of generic stock. Pieces can be customized and manufactured on demand and the machine features light blocking blinds and also houses an efficient exhaust system. The lab that has been established is part of an enormous pilot program involving 30 different participants in what they consider to be a joint industry project in creating large metal parts via WAAM.
"With its impressive size it will be able to 3-D print metal objects of 2 x 2 metres with ease," said RAMLAB Managing Director Vincent Wegener. "It's quite unique in the world to have such a system and we are probably the first and most ambitious lab in the world when it comes to large size additive manufacturing. This means that, when a propeller is made for example, the welding machine doesn't have to print the core of the object first, but only has to weld the blades which saves a lot of time,"
By Dag Pike