Serco Marine Services has announced that it has brought into service its 30th new vessel, which is operating on the River Clyde.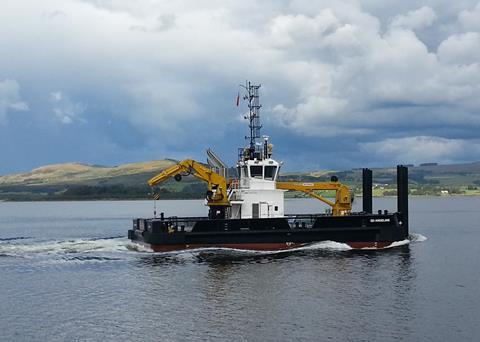 It will be supporting Serco's contract to provide marine services to the UK Ministry of Defence in Scotland.
Based at HM Naval Base Clyde, SD Angeline was designed to conduct lifts on and off submarines berthed alongside and at the base.
Phil Ireland, Serco's contract manager in Scotland, said: "For the past 18 years, Serco has proudly provided round-the-clock support to the Royal Navy in Scotland."
He continued: "We worked in close partnership with Defence Marine Services and the Naval Base team to design, build and bring SD Angeline into operational service and are enjoying working with our various stakeholders at HMNB Clyde towards realising the full spread of this impressive vessel's capabilities."
The Serco-operated workboat is owned by the Ministry of Defence and was built to its specification by the international shipping group, Damen.
It measures 25m in length with a gross tonnage of 200 and a crew of three. Its features offer a broad utility to the Royal Navy, including two cranes and large fuel and potable water storage tanks to support warships.
SD Angeline is the 30th new vessel that Serco has introduced into service since winning the current Marine Services contract in 2008.
The company now boasts a total fleet of 114 vessels, 24 of which are run from Scottish sites.
By Alice Mason