Portugal's Navalrocha shipyard has completed a multi-million-euro repair and refit project for Dubai-based marine geophysical company Polarcus.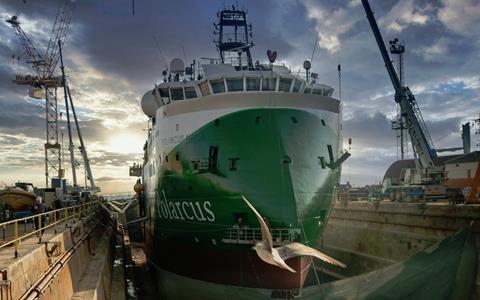 The drydock project which completed in January 2020 involved a broad package of work to the ultra-modern 14 streamer 3D/4D seismic vessel – Polarcus Naila.
The vessel is amongst the most environmentally advanced seismic vessels in the world with diesel-electric propulsion, high specification catalytic convertors, a double hull and advanced bilge water cleaning system.
Navalrocha Commercial Director Sergio Rodrigues said the sensitive project involved wide-ranging work.
"The Polarcus Naila visited Navalrocha shipyard for a total of 33-days running through the Christmas period," he said. "The project involved five principal partners which operate at the Navalrocha shipyard base and a series of other specialist maritime firms, delivering a variety of mechanical, hydraulic, piping, steel work, blasting and painting as well as oil, fuel and ballast tank cleaning, carpentry and welding.
"Around 350 engineers were involved in the project which required careful management of high-value survey equipment. Four mobile cranes, three yards cranes and six forklift trucks were used to manoeuvre on-board infrastructure. Engineers repaired four winches, replaced a further two and installed two new winches to boost operations.
A key reason Polarcus selected the Navalrocha yard was due to the scale of its graving docks. The vessel required draft clearance of 2.5m, dock floor to bottom of the vessel, to facilitate the main body of work involving the renewal of 12 box cooler units.
By Jake Frith