Irish boatbuilder Safehaven Marine is currently developing a newer, larger and faster version of its Barracuda range of naval and military interceptors.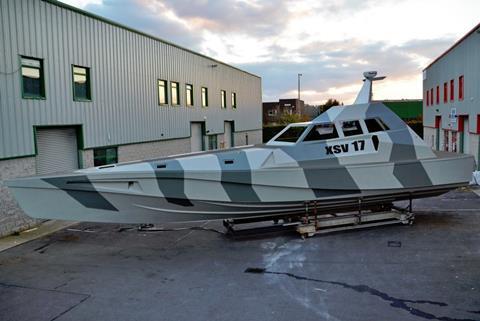 The new design: XSV 17 is 56ft / 17m long and incorporates a high speed hull design combining deep vee sections over its aft planing surfaces with a wavepiercing bow, designed to run clear of the water at high speeds, but can be brought into effect with running trim control and be capable of operating very effectively at high speeds in typical 2.5m offshore sea states.
The overall design incorporates various low RCS technologies originally developed in Safehaven's Barracuda but taken to an even more advanced stage in XSV 17 and will allow the vessel to operate with a very significantly reduced RCS (radar cross section) compared to conventional craft.
XSV 17 is designed for either hybrid waterjet propulsion or surface drives, that later being fitted to the first of class prototype currently well advanced in its construction (seen in the accompanying photo) which will have a 60kts maximum speed and 500nm range.
Safehaven tells us that the vessel is capable of carrying 16 personnel, 10 crew in its main cabin and up to 6 in its lower forward cabin, all on high tech shock mitigation seating, comfortably in a fully climate controlled environment.
As well as it's obvious military or security potential, the design is also suitable for SAR operations where its high speeds will greatly enhance emergency response times and incorporating a high level of survivability for rough weather operations with XSV 17 being fully self-righting.
The class prototype hull is reaching the fit-out stage, with sea trials likely early in the new year, after which MJ will be looking at this interesting craft in more detail.
By Jake Frith