Netherlands headquartered dredging and marine construction major Royal Boskalis Westminster N.V. has been awarded a contract by KSO Ciputra Yasmin to construct the land for the Centre Point of Indonesia Project located off the coast of Makassar.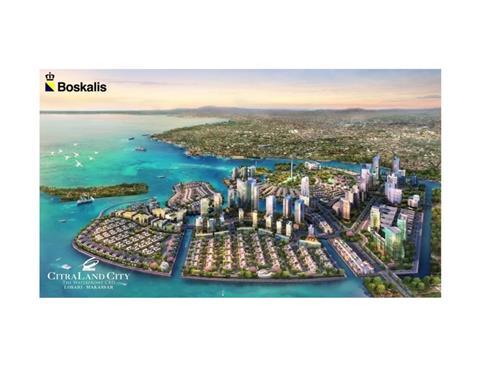 The contract is valued at some €80m, with work scheduled to commence shortly and expected to continue for two years. Boskalis will deploy a mega trailing suction hopper dredger for the reclamation activities. Witteveen+Bos signed a supervision and technical assistance contract with the Ciputra Group for the land reclamation project.
The project involves the construction of five artificial islands off the coast of Makassar. Approximately 75 hectares of land will be reclaimed using 9 million cubic meters of sand sourced from offshore borrow areas. The islands will be protected by rock revetments.
The construction of the five islands marks the first phase of a prestigious development by KSO Ciputra to provide high quality waterfront land for both residential and commercial use.
Boskalis' strategy is aimed at benefitting from key macro-economic factors which drive worldwide demand in its markets: expansion of the global economy, increasing energy consumption, global population growth and the challenges presented by climate change. This land reclamation project is driven by the necessity to create land to accommodate population growth in a densely populated region.
Meanwhile, Boskalis has concluded the acquisition of the dredging activities and assets of STRABAG Wasserbau GmbH, which was reported in the April issue of MJ. The transaction price of €70m was financed from Boskalis' own cash reserves.
With the transaction Boskalis acquires the equipment, personnel and relevant contracts of STRABAG Wasserbau. The most important assets are two young trailing suction hopper dredgers with a capacity of 7,350 m3 each, a large modern backhoe dredger and four self-propelled barges.
Through this acquisition, Boskalis strengthens its home market position in Germany where it recently acquired a contract together with Züblin AG from the Bremen port authority for the construction of a trans-shipment terminal for the offshore wind sector in Bremerhaven. Boskalis' share of the contract carries a value of more than €35m. The dredging of three million cubic meters of sand by a medium sized trailing suction hopper dredger forms part of the activities that are expected to commence at the end of 2016 and take two years to complete.
By Larz Bourne