German wind power giant Siemens has upgraded its most powerful offshore wind farm generator unit to 8 MW. Siemens, who has focussed its generator development on direct drive units, stated that its direct drive wind turbine technology for offshore turbines has reached the next development milestone.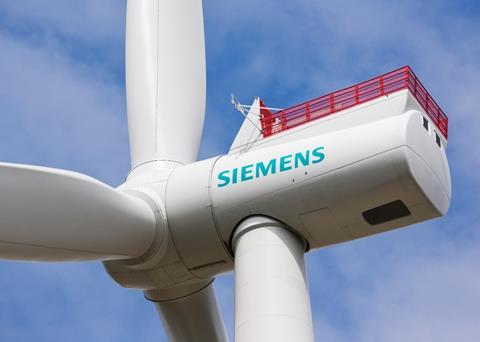 The first of these upgraded units, the SWT-8.0-154 turbine is scheduled to be installed in early 2017 at the Ãsterild test site in North-western Denmark.
Siemens claims that the new model will allow for up to 10% higher annual energy production (AEP) under offshore wind conditions as compared to the current 7MW model. This will offer a significant reduction in the Levelized Cost of Energy (LCoE) at low risk in terms of new technology.
Siemens has explained that the upgrade of its offshore direct drive wind turbine to 8MW has been made possible through the introduction of new magnet technology. The SWT-8.0-154 turbine has an even higher grade of magnet technology than that which was introduced in the SWT-7.0-154. This has enabled a rated the turbine to be upgraded by a power increase of more than 14% from 7 to 8MW. The new 8MW model will include the B75 blade and the medium-voltage transformer.
"We are relentlessly working on lowering the levelized cost of energy, and the offshore direct drive platform enables us to do this with the lowest possible risk," said Michael Hannibal, CEO for Offshore at Siemens Wind Power and Renewables Division. "With the same proven reliability as our successful 6 and 7-MW models, the SWT-8.0-154 will be the new benchmark for gearless offshore wind technology on the market."
Type certification for the 8MW turbine is expected to be obtained at the beginning of 2018.
Approximately 150 offshore direct drive wind turbines rated at 6 MW have already been installed and commissioned. Two SWT-7.0-154 prototypes were installed at the Ãsterild test site and according to Siemens, are performing well above expectations.
The use of direct drive for a wind turbine reduces the number of components required in the turbine housing at the top of the installation. Siemens claims that by removing the need for a gearbox greatly reduces the complexity of the generator drive and thus increases the reliability. In the Siemens direct drive system the power from the turbine blades is taken directly by shaft to the generator which has been specifically designed to operate at low speeds. Whilst this requires a larger diameter generator this is easily accommodated within the turbine tower nacelle. Removing the gearbox from the drive train also reduces the need for maintenance and the overall cost. Last year Siemens claimed a 63% share of the European wind turbine market.
By Dag Pike