A year ago an innovative new system called ScaffFloat was launched into the market, combining custom plastic floats with standard scaffold components.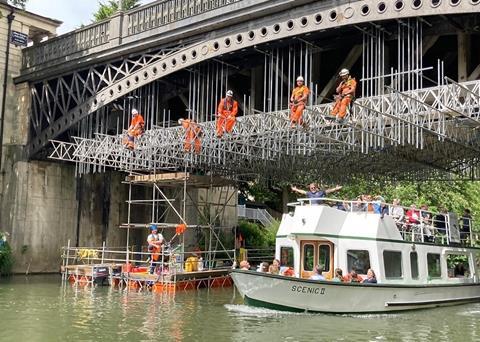 The modular and cost-effective structural system can make pontoons, lifting barges and temporary workboats that are available to hire for commercial projects, bridge works, marine civils and a wide range of other applications.
The system has been launched by WorkFloat, the company behind the folding Workboat that fits in a shipping container and who won the EMCA award for innovation at the last Seawork show.
They currently make two patented floats, the small one is 0.5m3 and the larger one is 1m3. The floats are specifically designed to fit with standard scaffold lattice beams and tubes to provide a very wide range of floating solutions. And it is this versatility that has proved a hit with their customers, as each pontoon can be customised to meet their exact requirements.
The capabilities of the system are rapidly expanding as the team behind the system take on larger and more complex projects. The ScaffFloat system comes as standard with a heavy duty wood deck, full handrails and kickboards compliant with TG20 and a full set of structural, buoyancy and stability calculations by their naval architect with approved load cases for each job. There are then a wide range of bolt on extras that include engine pods, deck winches, anchor windlass, spud legs, lifting a-frames and cranes, launch wheels, ballasting for sub sea lifting .. to name but a few
So far this year the team have worked on multiple projects and have already amassed an impressive list of clients that range from the Royal Navy and Network Rail to Save the Children and the Environment Agency.
Toby Budd, MD said ''It's been a busy year despite Covid. We have struggled to keep up with demand, and over half our jobs now include a skipper with us taking over all the on water operations and related RAMS. Clients love the system, it's safety and the level of paperwork and conformity to approved standards that we provide. They also love the scaffold element as it is easy for us to customise on site, bolt stuff on and accommodate the last minute changes that inevitable happen on projects. Looking forward we have some really exciting R&D in the pipeline for this winter where we will significantly stretch the capabilities of the system and what it can do, lift and carry. And of course we will be launching some of these in the flesh at next years' live Seawork event where we have a 10m x 20m on water stand with 'top deck' Cornish pasty and ale bar.
Connect with WorkFloat at Seawork Connect 5th-7th October