Titan Salvage, now part of Ardent following the merger between Titan and Svitzer Salvage, have successfully completed removal of the cape-size bulk carrier 'Smart' in South Africa.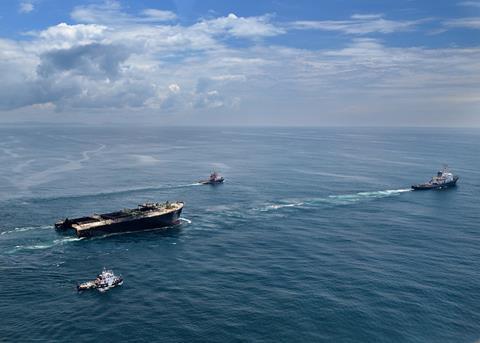 It is now two years since the 151,279dwt bulk carrier Smart ran aground on a sand bar shortly after sailing from Richards Bay coal terminal. All 23 crew members were safely rescued from the vessel which was loaded with 147,650t of coal, 1,769t of fuel oil and 129t of diesel and a few days later the 273m long vessel broke into three. The South African Maritime Safety Authority (SAMSA) along with the vessel's P&I insurers (North P&I Club) quickly took measures to manage the situation, the priorities being to limit risk to shipping and protect the marine environment of Richards Bay.
Dutch salvors Smit Salvage together with Smit Amandla Marine and South African salvor Subtech Group were contracted to remove fuel from the Smart, following which 10,000t of coal slurry was removed from the ruptured number nine hold. Two months after the grounding the now separated stern section was refloated and scuttled in deep water offshore.
Titan Salvage meanwhile won the contract to carry out lightening, refloating and scuttling of the partially buried bow section. The contract was unusual because of the extent to which Titan assumed operational risks associated with the project, minimising chances of cost overrun. The operation was carried out successfully with refloating and scuttling of the bow section completed in December 2014.
Work continued with the remaining mid-section which involved cutting down as much as possible and burying the remainder, an operation which has now been completed, the work including rehabilitation of the seabed.
North P&I Club's deputy global claims director Mike Salthouse comments: "The successful removal of this very large, high profile wreck highlights the benefits that flow from an open and early dialogue with the authorities responsible for managing a wreck site as well as all other stakeholders. The collaboration between North, SAMSA, the South African Department of Agriculture and Environmental Affairs, the Endangered Wildlife Trust, the international salvage team and the International Group of P&I Club's reinsurers has provided clarity from the outset, enabling an accurate budget to be agreed and adhered to from an early stage."
This wreck removal was clearly a protracted operation requiring cooperation of a number of parties including commercial and regulatory. A point made by Captain Nigel Campbell, SAMSA Centre for Ships executive head: "The successful conclusion of the operation is a tribute to all parties, government departments, the local municipality, Transnet National Port Authority, insurers and salvors who, by working together as a team, reached agreement on sensitive issues through consensus without having to resort to the courts."
By Peter Barker