The new Trimble Groundworks Machine Control System with intuitive user interface increases operational efficiency by enabling contractors to perform drilling and piling operations quickly, safely and accurately.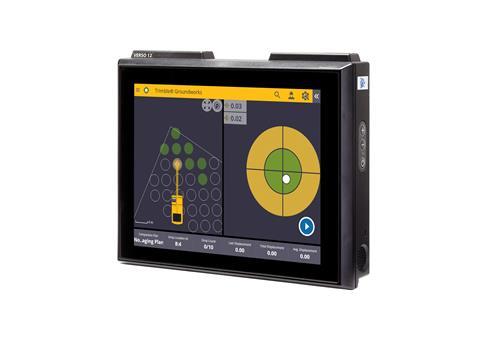 Using the large touchscreen display, operators can personalise the interface to match their workflow. In addition, a variety of configurable views make it easier for users to achieve maximum productivity.
"Engineered for ease of use, Trimble Groundworks features an updated, intuitive user interface designed for construction environments," said Scott Crozier, general manager for Trimble's civil engineering and construction division. "Contractors can achieve centimeter-level accuracy with stakeless navigation, which reduces rework and decreases the need for personnel working near the machine during operation."
Precise operations
The system gives contractors the ability to easily and precisely drill to the specified location, depth, orientation and inclination angle. Better rock fragmentation and lower hauling costs can be achieved by optimising drill hole spacing, angles, and the location of the machine for a more even blasting pattern. The auto stop feature automatically stops drilling at target elevation to save time and costs.
Contractors using the system can use the accurate positioning capability to ensure that navigation time between piles is reduced, maximising daily production. The system's accuracy can also reduce surveying costs associated with staking and as-built checks.
Piling features include capture of start and end positions, time and elevation as well as actual embedment depth, blow count reporting, and inclination and orientation control. Additionally, unique system logins allow managers to filter reports by operator for better accountability, production optimisation and forecasting.
By Rebecca Jeffrey