US safety and survival technologies specialist, ACR Electronics, has unveiled its range of new products suitable for commercial owners, operators and crew working in the commercial shipping and offshore industries.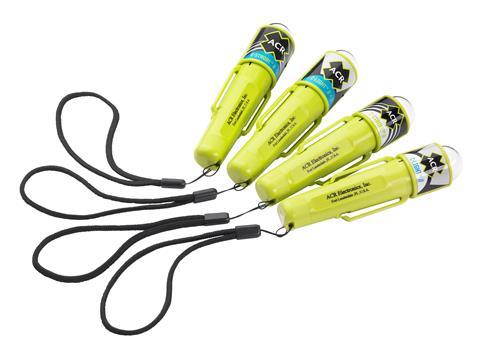 ACR showcased the GlobalFIX V4 EPIRB, Pathfinder PRO SART, the C-Light and C-Strobe personal distress lights and its new AIS Class A and Class B transceivers at this year's Seawork International.
Simon Crowther, ACR EMEA sales manager, said: "ACR has broadened its depth of high quality GMDSS safety equipment and will be launching these new products to the commercial market in 2016."
Said to offer the latest in marine electronic lifesaving technology, the new professional grade design GlobalFIX V4 EPIRB has a number of notable features including user-replaceable battery with a 10-year battery life, internal 66 channel GPS, a four LED array strobe light, and a new wrist strap for hands free carrying in an emergency evacuation.
ACR's fully-approved Pathfinder PRO SART, which complies with IMO, MED, FCC and IEC standards, is designed to assist in the rescue and recovery of life rafts and survival craft by transmitting a series of pulses for display on a ship's radar screen to provide a bearing to the survival craft.
Ideal for attaching inside life jackets, ACR's series of LED personnel distress lights include the C-Strobe and water-activated C-Strobe H2O strobe lights featuring 45 lumen LEDs that operate typically for 120 hours continuously in strobe mode.
ACR's new LED C Light and C Light H2O waterproof steady-on personal distress lights have a 20 lumen LED that operates typically for 30 hours continuously. The lights are slim, lightweight and easy to store, providing a versatile solution for a range of activities.
Approved to the latest AIS regulations, the AISLink CA1and AISLink CB1 transceivers are appropriate for vessels affected by new mandates, including the United States Coast Guard AIS mandate which requires more commercial vessels to install AIS by March this year.
Both units will send and receive wireless data to and from nearby AIS-equipped vessels including the vessel's name, position, course or speed over the ground, heading and rate of turn.
By Rebecca Strong