Multi-award-winning NMEA specialists Actisense has launched the latest addition to its PRO range at Seawork 2018.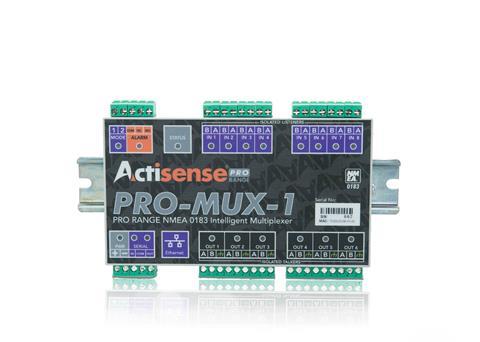 Actisense's PRO-MUX-1 is a Professional Multiplexer designed to provide isolation on all inputs and outputs so that connected devices safely avoid hazardous ground loops, the number 1 cause of product failure in NMEA 0183 networks.
"We are excited to be launching the PRO-MUX-1 ready for market at Seawork 2018. Last year's show provided an invaluable opportunity to showcase its prototype and gain customer input on how we could continue developing the device for their benefit," said Phil Whitehurst, Actisense CEO ahead of the event.
"We are confident that the PRO-MUX-1 is a unique and industry leading device that provides an innovative solution to NMEA 0183 networks. It's fitting that we officially launch the device at Seawork."
Product launch
The PRO-MUX-1 has eight NMEA 0183 inputs can be routed to any of the six NMEA 0183 outputs, providing a highly customisable network.
A bi-directional serial port and an Ethernet port also allow for simple configuration and diagnostics using Actisense software.
Further features include a DIN rail mounting system for security in high vibration environments plus 2-part pluggable connectors enabling news devices to be installed into the network without unmounting the PRO-MUX-1.
The device's configuration tool is also accessible via any popular web browser and allows the user to finely tune the exact data available on each output.
By Anne-Marie Causer