The Netherlands Coast Guard has increased its emergency towing provision in the North Sea with a powerful tug to guard the Borssele offshore windfarm.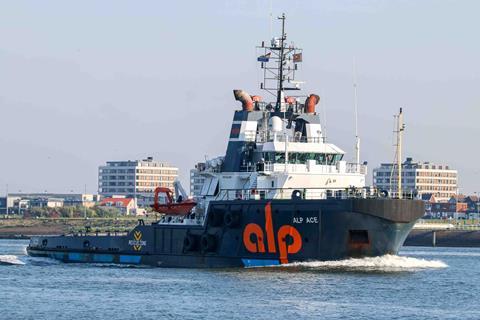 Since 1 January this year the tug ALP Ace, owned by ALP Maritime Services and operated by Terneuzen-based Multraship is providing towing stand-by services at the windfarm on a temporary basis until a more permanent vessel takes up the role for a ten-year period. Contract management is provided by Rijksrederij who manages specialist ships including customs, Ministry of Agriculture and Coast Guard vessels.
With increasing numbers of offshore windfarms in the North Sea there is natural concern of the consequences of a ship losing propulsion and drifting into the site before contracted towage assistance arrives. The windfarm, off the Zeeland coast is the largest offshore windfarm in the Dutch part of the North Sea and in an area with a lot of shipping activity due to the proximity of nearby ports of Antwerp and Rotterdam. As well as its primary ETV duties, ALP Ace is also available for other Coast Guard taskings including SAR operations.
A shipping corridor has been included in the Borssele windfarm for ships up to 45m in length to pass under certain conditions and Rijkwaterstaat is to carry out a monitoring and research programme over the next ten years to examine effects of the security measures including supervision and enforcement by the Coast Guard and the ETV deployment.
ALP Ace, built in 2006 in Germany is a regular site in north-west Europe. Powered by MAN main engines (14,000kW total) driving CP propellers the 58.5m LOA tug is of conventional design with an electrically driven twin drum towing winch aft, each drum accommodating 1,600m of 76mm wire along with an additional 1,200m storage reel.
This deployment brings the number of dedicated ETVs under Dutch control to two. Further north, Multraship also operates the Italian-owned tug supply vessel Guardian V (previously Ievoli Amaranth) which is based at Den Helder.
Another well-equipped vessel, Guardian was built in Turkey in 2013 and of 65.7m length on a breadth of 15.5m. It is also of conventional design powered by MAK main engines developing 8,000kW total and a bollard pull of 149 tons via a 400-ton brake load anchor-handling winch aft.
By Peter Barker