Seawork exhibitor Advanced Aerodynamic Vessels has developed a unique type of catamaran that the French company claims is showing enormous potential for efficient performance at high speeds. This catamaran operates with narrow side hulls integrating with and supporting the aerofoil shaped cross deck that rises in a high, almost semi-circular arch that has been designed to generate a lot of lift at high speeds.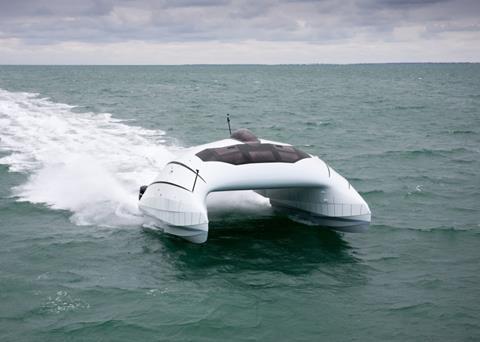 The 10 metre prototype which is powered by a pair of 200hp outboard motors, has been operating for over 5 months on trials in the waters off La Rochelle where it has attained speeds up to 60 knots and validated the expected fuel consumptions.
The supporting side hulls are stepped to reduce the wetted surface area at speed and they are fitted with spray rails to help generate lift. The fine lines of the side hulls help the efficiency and give a certain amount of wave piercing effect when the boat is operating in rough seas. The lift generated by the cross deck which is aerofoil shaped in longitudinal cross section helps considerably to reduce the resistance.
The success of this prototype has led to the development of larger commercial versions of the design and three of these have been sold and are under construction at the yard in La Rochelle. The smaller 12 metre version which has a beam of 7.36 metres is designed to carry 12 passengers and it will operate as an excursion boat and water taxi on Lake Leman. The passenger saloon is in the lower section of the cross deck with the control station in a streamlined pod above.
The power will come from a pair of inboard Steyr diesels of 254hp each which will be coupled to Top System TS40 drives with surface propellers. This is forecast to give the vessel a top speed of 60 knots and a cruising speed of 50 knots. With two 300 litre fuel tanks the range is estimated at 380 miles. For passenger comfort the saloon will be fully air-conditioned with 2 metres of headroom. The Steyr diesels will be equipped with a 4kW flywheel generator that will supply electrical power at 230 volts.
A larger version ordered by Peschaud and Cie International is currently being built to carry 25 passengers and it will operate as a crew transfer vessel in West Africa. It will be built to classification society standards. A long range offshore crew boat designed to carry 60 passengers in West Africa is under detailed study for Bourbon Offshore.
The high bridge deck of these designs overcomes the Achilles heel of many catamaran designs when they are required to operate in rough seas which is waves striking the flat under surfaces of the bridge deck. With a clearance of up to 3 metres this new concept is designed to be able to maintain speed in rough sea conditions and to maintain a relatively level ride without undue vessel motions.
By Dag Pike