Offshore wind turbine manufacturer Adwen and turbine rotor blades supplier LM Wind Power have unveiled the world''s longest wind turbine blade. The 88.4 metre long blade has been designed for Adwen''s AD 8-180 wind turbine, an 8 MW wind turbine with a 180 metre rotor diameter. This large blade was manufactured at LM Wind Power''s factory in Lunderskov in Denmark.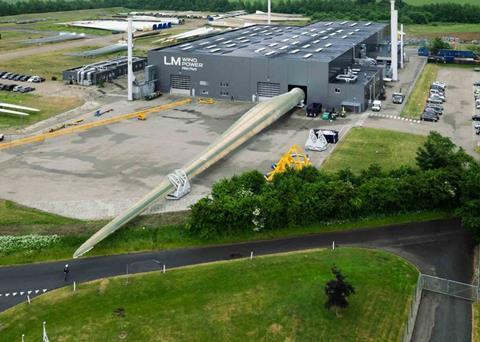 "When you are building the largest wind turbine in the world, almost everything you do is an unprecedented challenge," said Luis lvarez, Adwen's General Manager. "We are going where no one else has ever gone before, pushing all the known frontiers in the industry. Having developed and integrated together with LM Wind Power the first unit of the longest blade ever and being able to start testing is a key step forward in the development of our AD 8-180 and proves that Adwen is at the forefront of the industry."
The new 8 MW wind turbine is a big step towards lowering the Levelised Cost of Energy for offshore wind energy, with the LM 88.4 P blade being designed with manufacturability and reliability at the forefront of developer's minds. The 88.4 metre length of the blades is the best compromise between swept area, energy production, and the weight as well as the loads transferred to the wind turbine. This provides the best combination of balance of plant costs, and goes a long way to ensuring that the AD 8-180 will be a wind turbine capable of low electricity generating costs.
As part of their expansion plans and to meet demand from planned French offshore wind farms Adwen has appointed a consortium made up of Egis, Auxitec and Enia Architects for designing and preparing a detailed scheme for the two factories it plans to build in the port of Le Havre, France. These facilities will produce the nacelles and blades for the 8MW turbines to be installed at the Baie de Saint-Brieuc, Dieppe Le Treport and Yeu-Noirmoutier wind farms that are scheduled to come on stream by 2021.
Taking over Areva's commitments to develop the offshore wind industry in France, Adwen has also started building a regional network of suppliers. Specifically, the company has selected ACMH to manufacture the generator cover for its 5MW turbines, and ACN for supplying the pre-assembly tool for the blade bearings of its 8MW prototype. Both companies are based in Normandy region, in the north of France. An industrial cluster will be created at Quai Joanna's Couvert in Le Havre, comprising Adwen plants and partners' factories for the production of key components such as bearings, generators and gearboxes.
"Since Adwen was launched, we have been committed to the development of the offshore wind industry in France, initiated by AREVA." said Alvarez.
By Dag Pike