Long viewed as quirky but largely irrelevant, airborne wind energy generation technology is enjoying something of a quiet renaissance. So, as an innovative UK-developed device creeps ever nearer to commercialisation, what are the chances that the technology will one day soar into the mainstream?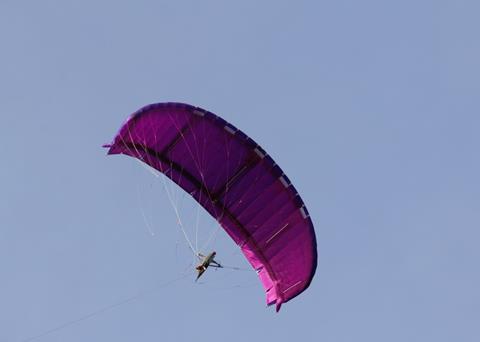 Kite power
From its base in Burnham-on-Crouch in Essex, UK start-up Kite Power Solutions (KPS) has been working on a novel airborne wind energy technology device since 2011. The KPS system uses two flexible aerofoil kites to harness energy from the wind, typically at altitudes up to 450m - around twice the tip height of a typical 3MW horizontal axis wind turbine (HAWT).
Two cross-wind kites are attached to a single base station and, as one kite flies away from the station, it pulls tether from a drum - causing it to rotate and generate electricity. During this generating phase the second kite flies back to the base station. A typical generation cycle takes 40 seconds and the return cycle takes 20 seconds, so with two kites flying there is an overlap phase of some 20 seconds where both kites are generating power.
As David Ainsworth, Business Development Director at KPS, explains, the output power from the drum drives a hydraulic pump, with pressurised fluid stored in a hydraulic accumulator. The pressure from the accumulator drives a hydraulic motor which drives a generator.
"Hydraulics at this stage are preferred. A similar result could be achieved electrically with battery storage, but typically batteries will need replacing every six to ten years and they are not cheap. The hydraulic accumulators will last the life of the system," he says.
Cost savings
Since its inception, KPS has received nearly £4 Million of funding from the founders, Royal Dutch Shell, as well as the Department of Energy and Climate Change's Energy Entrepreneurs Fund. The company already has a 40kW twin kite system operating regularly under fully automated control' -and, according to Ainsworth, it has also recently completed the design for a 500Kw system and identified an onshore test site in Scotland, where it can operate 'without restriction.'
For Ainsworth, the fact that the mass of the KPS system is 'less than 15% of an equivalent horizontal axis wind turbine in 40m of water' means that it can boast 'significant costs savings' in the quayside cost of the turbines.
"Mass also drives installation cost, as with heavier systems you need bigger cranes and boats. We don't need jack up barges for installation and maintenance, our system is on a floating platform so it is towed out for installation and recovered back to port for maintenance, which reduces costs. For every 30 installed systems in our LCOE model we assume that we have one spare system and a dedicated work boat and crew to replace the system if it fails," he says.
Over the next few years, Ainsworth reveals that the 'key technical challenge' is to develop a system that achieves 'equivalent levels of availability of an HAWT with a 3-5 year development programme.'
"HAWT technology has had over 30 years to develop to the current levels of availability, so a novel technology like kite energy systems has a lot of catching up to do. To achieve this we will conduct a complete suite of system development and reliability testing in parallel to the total system development," he says.
"We plan to deploy demonstration arrays in 2019 with our 500Kw system, which will offer potential investors positive internal rates of return (IRR) above the weighted average cost of capital (WACC). Offshore floating arrays is our core target market with a device rated at 3MW plus," he adds.
EU project
A new EU-backed initiative also promises to progress the development of airborne wind energy generation technology. The AWESCO project (short for Airborne Wind Energy System Modelling, Control and Optimisation) is doctoral training network that has been granted funding of €3.4 million from a combination of the EU Horizon 2020 framework programme and the Swiss Federal Government. As Roland Schmehl, Associate Professor at Delft University of Technology's Kite Power Research Group, explains, the objective of the network is to 'collaboratively address and solve the scientific and technical challenges of wind energy harvesting by means of tethered wings.' As part of the scheme, 14 PhD fellows are working from 2016 to 2018 at 12 European universities and companies.
"AWESCO is focusing on the technologies pursued by European developers, which is traction power generation. This concept uses the traction power of a wing, or other airborne devices, and converts this on the ground by a generator," says Schmehl.
Some of the key aspects the network will address relate to how best to secure the reliability and robustness of flight operations, as well as how to achieve the optimal design and operation of the overall system. According to Schmehl , some partners in the AWESCO initiative have already demonstrated 'multiple days of continuous operation' - some of which have been achieved under 'adverse conditions.'
"There are several advantages of airborne technology, including substantially reduced material use - via a flexible tensile structure in place of rigid tower structure - a lower cost of energy and a system operation that can be adjusted to varying wind conditions and altitude range. Airborne technology can also access wind resource that is unreachable by conventional wind turbines," he says.
Last year, a team led by TU Delft - alongside Enevate, a TU Delft start-up, and three component suppliers - was also awarded a further €3.7 million under the H2020 framework. This project will target the commercial development of the e100, a TU Delft developed airborne wind system that Schmehl confirms will be 'in the 100 kW range, fully mobile and generating at a competitive cost of energy for such a scale.'
By Andrew Williams