With the hiring of Intertek to provide environmental and planning support the project to harness the strong tidal currents of the Island of Alderney has moved a step forward. Intertek has been hired by FAB Link Ltd which is the company that is developing the cross-Channel electricity power cable that will form an essential part of the tidal generation plan for the waters around Alderney.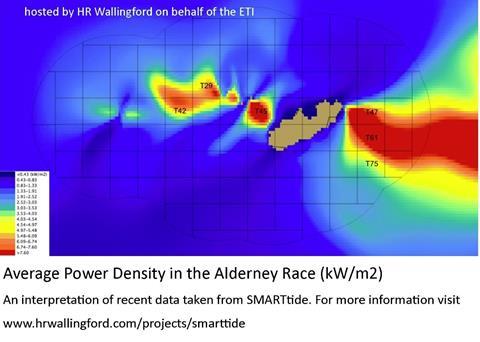 The licence to develop Alderney's tidal resources was awarded to Alderney Renewable Energy (ARE) which has already commissioned detailed hydrographical and geographical surveys of the licence area. These surveys were carried out by Osiris Projects and the data was modelled and reviewed by Black and Veatch and Parsons Brinckerhoff. They confirmed that the extractable energy contained within ARE's licence area exceeds 3 GW.
The 48 blocks that it will develop have been sub-divided into individual projects that fall within the 3 main tidal streams around Alderney. These are The Alderney Race between Alderney and France, The Ortac Channel between Alderney and the Casquets to the northwest and the third area further out to seaward from the Casquets.
ARE has a strong relationship with turbine manufacturer OpenHydro which has a 31% shareholding in ARE. OpenHydro installed their first 16 metre, 2.2MW turbine in the EDF Paimpol Project in France in November 2011 and three further turbines were added in 2014. DCNS, the French Naval Contractor, has acquired a major shareholding in OpenHydro.
The waters around Alderney contain one of the World's largest tidal energy resources with tidal streams running at speeds of 4 and 5 metres per second in many parts. When completed it is expected that there will be a total of 150 turbines installed with each one generating 2MW. This will provide enough power for over 150,000 homes. The total resources of the tidal flow in Alderney waters are estimated at over 3000MW.
The FAB Link is an undersea electricity cable that will link the south coast of the UK to France and it will connect into Alderney as part of its route. This will enable power generated from the tidal array to be sent to either Britain or France to be fed into the respective grids and it will also act as a power sharing facility for the two countries. The FAB Link will carry high voltage direct current with a capacity of up to 1400MW. This interconnector cable will run for close to 220km between the Cherbourg Peninsula and the UK coast near Exeter. Construction is expected to commence in 2018.
By Dag Pike