Electrical system integrator Alewijnse Marine Systems is building on its presence in the offshore wind market by equipping out Windcat crew transfer vessels.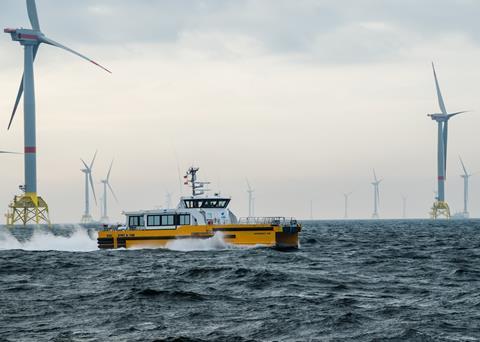 Its latest project has been the electrical outfitting of the offshore crew transfer vessel (CTV) Windcat 41, which is one of a series of CTVs that owner Windcat Workboats BV is having built at the Dok en Scheepsbouw Woudsend BV shipyard.
"We have been at the yard since 2009, working on the Windcat vessels. The results have been well above expectations with newbuild and refit contracts for 17 vessels," said Bertran Smit, Alewijnse project manager.
"The projects have generally run well for all the parties concerned. Woudsend and Windcat are very satisfied with the quality of the delivered vessels and Alewijnse's flexibility."
More demand
For the Windcat 41, Alewijnse delivered the complete electrical installation. This included a console and alarm and monitoring system.
A new feature for this series is the replacement of the conventional batteries with Lithium-Ion equivalents, due to their high energy density. Alewijnse also assisted the yard in making and installing the aluminum cable trays and foundations.
With Windcat 41 now completed, Alewijnse Marine has started the electrical installation on sister vessel Windcat 42.
Windcat crew transfer vessels are active in North West Europe, from the UK to Denmark and Germany.
As an all-round systems integrator, Alewijnse supplies a comprehensive range of technical services, innovative electrical engineering, automation, Nav-Com and AV-IT solutions.
By Anne-Marie Causer