Netherlands-headquartered marine system integrator Alewijnse Marine has opened a new service and maintenance facility in Den Helder to support its activities at the Dutch Royal Naval dockyard and Damen Shipyards Den Helder.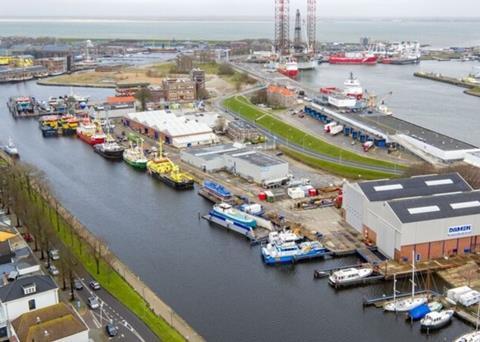 This new facility will allow Alewijnse Marine to deliver its expertise in all types of electrical systems more quickly and efficiently to naval and commercial vessels.
Alewijnse Marine has been working successfully in Den Helder for several years, on contracts with both Damen Shipyards Den Helder and the Dutch Royal Navy. What began with providing service on hybrid tugs, expanded rapidly into delivering larger service and maintenance contracts, particularly for naval vessels. The increasing number and complexity of assignments, has led to the establishment of a formal service hub, which was a logical step.
Meanwhile Alewijnse Marine has a long list of completed service and maintenance projects in Den Helder. These include working on the Joint Support Ship (JSS) Zr. Ms. Karel Doorman and the amphibious transport ships Zr. Ms. Johan de Witt and Zr. Ms. Rotterdam. Besides the successful execution of works on these naval vessels, Alewijnse also undertook a series of large electrical servicing and maintenance projects on research vessels, offshore support vessels and other ships, serving various end clients, including Opus Marine, Severn Offshore Services, WesternGeco and Polarcus.
The highlight so far in this series of projects has been the JSS Zr. Ms. Karel Doorman, the largest vessel in the Dutch navy, which is currently moored for a maintenance on the main engines lasting from March 2016 until summer 2017. Alewijnse was contracted by Defensie Materieel Organisatie (DMO), part of the Dutch Department of Defence, to install a fully wireless internet system on board including 58 Wi-Fi access points. This is an important system for both the ship's operations and the crew.
Alewijnse Service Manager Brigit Reichardt sees good growth opportunities for the new service facility in Den Helder: "The opening of a new service hub in Den Helder is not only in response to the growing number of assignments from Damen Shipyards Den Helder and the Royal Dutch Navy, it is also in line with the ambition of the Port of Den Helder to develop its capabilities as important hub for maritime maintenance and services in the coming years."
Damen Shipyards Den Helder is pleased with the results of its cooperation with Alewijnse. Brigit Reichardt continued: "We have established a good connection with Damen Shipyards Den Helder since we began working together. Experience so far has shown that communications are clear and transparent and that cooperation at every level is good. This has led to the establishment of an Alewijnse facility at the yard premises and is expected to lead to a steady growth of Alewijnse Marine at this strategic location in Den Helder. "
For many years Alewijnse has a strong relationship with Damen and operates at a number of its ship repair yards, like Dunkerque, Vlissingen, Rotterdam, Amsterdam and Den Helder. Beside the facility in Den Helder, Alewijnse has operational facilities in Vlissingen and Dunkerque. In the latter, Alewijnse is mainly involved in servicing the full range of cross-channel ferries, as the yard is well-positioned for the many passenger and freight ferries operating between France and the United Kingdom. In Vlissingen, Alewijnse's operational deployment focuses on 24/7 service for temporary facilities on offshore vessels. The Alewijnse service location in Den Helder is situated directly at the Damen Shipyards Den Helder, Zwartepad 1, 1781 AH Den Helder.
By Jake Frith