Alewijnse Marine Systems, the Netherlands-headquartered system integrator, is undertaking the complete electrical outfitting of the ultra-modern hopper dredger 'TSHD Spauwer', developed in-house by Den Herder Seaworks. The works are taking place at Shipyard Trico B.V. in Rotterdam.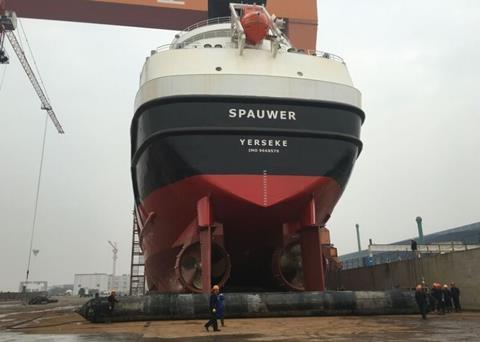 The Trailing Suction Hopper Dredger (TSHD) Spauwer is a large and highly sophisticated hopper dredger with a length of 142 metres. It is designed for deep water mineral mining in concession areas beyond the continental shelf. The hull of the TSHD Spauwer was launched on December 15, 2015 and delivery is expected at the end of this year.
Alewijnse has been contracted for the supply, installation, connection and commissioning of approximately 110 km of cable, the review of the engineering package, the manufacture and supply of the distribution boards, the reduction and conversion of the switchboards and the programming of the alarm monitoring and control system and the dredging equipment.
Alewijnse will also supply and install a number of fire detection systems together with the ship's transformers, batteries and battery chargers, the lightning installations including the navigation lightning, the switchboards, the tank measurement system and the PLC equipment for the alarm monitoring and control system and the dredging equipment.
Alewijnse has previous experience of working with Den Herder Seaworks, having successfully delivered the complete electrical outfitting of the TSHD Spauwer's sister vessel, the TSHD Scelveringhe which has the largest capacity in the company's fleet. For her Alewijnse was also responsible for installing all the electrical systems on board, including the bridge electronics, motors, generators and control equipment for the dredging equipment and the automatic unloading installation. The TSHD Scelveringhe uses advanced techniques for mooring, dry unloading and gravel extraction.
"Winning the contract to undertake the complete electrical outfitting of this sophisticated vessel is a welcome vote of confidence in Alewijnse and its capabilities," said Alewijnse Project Manager Mitch Opmeer. "We are very pleased to have the opportunity once again to demonstrate the breadth of our knowledge and capabilities to Den Herder Seaworks, one of the largest ship owners in the sand and gravel extraction sector in Northern Europe. Our ability to deploy the right numbers of staff with the necessary skills to wherever they are required gives clients like Den Herder Seaworks the reassurance that their exact needs will always be met, at the agreed quality and pricing levels."
Den Herder Seaworks extracts sand and gravel both for itself and for third-party clients involved in the concrete industry, sand trade, large-scale earthworks, hydraulic engineering and road construction. The company's dredgers are all ocean-going; operating under stringent class requirements and using cutting-edge technologies. In addition to the TSHD Spauwer and TSHD Scelveringhe, the fleet of Den Herder Seaworks also includes the TSHD Swalinge and TSHD Saeftinge.
By Jake Frith