Netherlands-headquarted integrated bridge systems specialist Alphatron Marine has handed over a full turnkey AlphaBridge tugboat console solution for the 'RT Trident' to Seabulk Towing Inc. located in Fort Lauderdale, Florida, USA.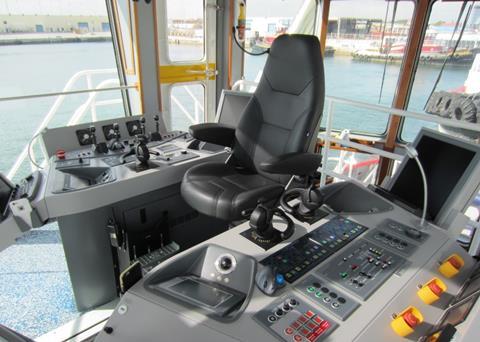 Alphatron says that the AlphaBridge for tugboats is distinguished by the best all-round visibility offered from a sitting position, ensuring uncompromised command and control at all times during intensive harbour operations. This bridge has been fully equipped with a high quality and ruggedised JRC/Alphatron Marine navigation and communication package.
The bridge is comprised of two ergonomically designed consoles with a central, rotatable, captain's chair mounted on sliding rails. The layout of the consoles was designed in close cooperation with the intended users. The radars onboard include the JRC JMA-5200 sea radar, with the patented JRC Constaview, and the Alphatron JMA-610 river radar, especially designed for inland and manoeuvring applications in enclosed waters. At each end of both consoles is a retractable screen, one with the radar display, switchable for sea and river, and the other a multi-function screen displaying navigation and operational data.
After the AlphaBridge tugboat console was pre-installed and pre-wired in the workshop in Rotterdam, it was shipped to the yard, Master Boat Builders Inc., in Bayou la Batre, Alabama, in the USA. Engineers from Alphatron Marine, head office in Rotterdam, The Netherlands, commercial support from the recently opened Alphatron Marine USA office in Houston, Texas and the local JRC/Alphatron dealer, New World Electronics in Bayou La Batre, Alabama, have been working closely together, providing on site installation and commissioning.
The RT Trident is the first of three new Robert Allan designed Rotortugs for Seabulk Towing, and will be homeported in Port Everglades in Fort Lauderdale, Florida.
By Jake Frith