Marine electronics expert, JRC, and integrated bridge solution expert, Alphatron Marine, have delivered an AlphaBridge system to a new double ended passenger ferry being built at La Naval Shipyard in Bilbao, Spain.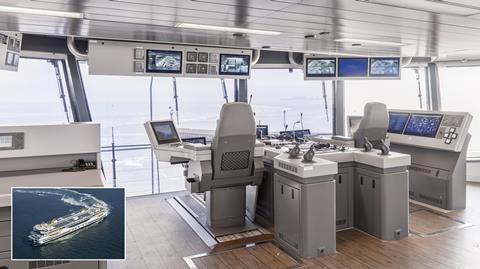 The fully ergonomically designed bridge being installed at both ends of the vessel, features full navigation, internal communication and observation equipment and captain's chairs on sliding rails with built in armrest steering control.
The client selected a complete double bridge package for inland water for the new ferry, which includes navigation, overhead and safety consoles, as well as JRC's complementary control and switching panels with centralised dimming and intuitive control.
Included as part of the AlphaBridge system is a complete remote controlled CCTV system featuring 32 IP cameras operated from three different stations and a custom built docking system that detects the distance to shore from several locations to ensure optimal safety for passengers.
Naturally the bridges work independently from each other and include safety override switching between both ends, offering true flexibility and integrated and sophisticated navigation.
When completed, the Texels Eigen Stoomboot Onderneming (TESO) owned ferry called Texelstroom, will sail between the city Den Helder on the mainland and the West Frisian island of Texel, situated in the Dutch North Sea.
By Anne-Marie Causer