Great Yarmouth, UK-based Gardline Geosurvey has established a strategic partnership with Neptune in Perth, Australia under which its 69 metre multi-role DP2 survey vessel 'MV Kommandor' is to be jointly operated following additional installation of Neptune's Explorer 06 100HP ROV together with a new dedicated control centre.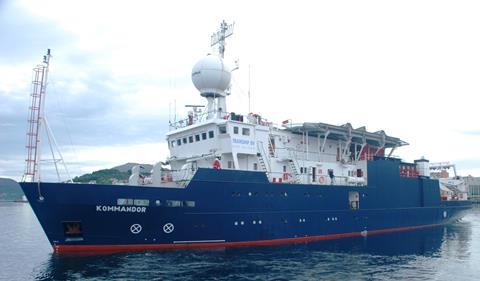 Manned by staff from both companies, the vessel's extended capabilities will enable it to provide a number of enhanced features in addition to those normally available with standard site survey craft, particularly for operations requiring close approach work and extensive ROV activities. Other claimed advantages include the ability to undertake single pass site survey operations simultaneously with ROV, geotechnical and environmental acquisition ventures, so leading to substantial cost savings.
Both companies operate worldwide with Gardline specialising in hydrographic, geophysical, environmental, oceanographic and geotechnical site investigation surveys. Its Neptune partner is a leading supplier of integrated inspection, repair and maintenance solutions to the oil, gas, marine and renewable energy industries from operational bases throughout Australia, Asia and the UK.
By David Goodfellow