PPG has announced the launch of its PPG Sigma Sailadvance NX coating, which is the latest addition to its Sailadvance range.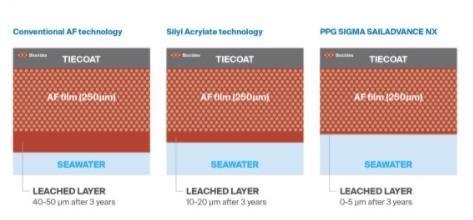 PPG Sigma Sailadvance NX coating was developed to provide maximum hull protection and vessel performance in line with the requirements arising from International Maritime Organization (IMO) energy-efficiency measures. The coating delivers significant savings in fuel and related carbon dioxide (CO2) emissions, resulting in lower total operational costs and improved contribution toward global carbon-reduction measures.
The culmination of 10 years of intensive product development by PPG's resin synthesis experts, PPG Sigma Sailadvance NX coating is claimed to 'solve the shipping industry's antifouling technology challenges' by delivering real linear polishing, a minimal leached layer and protection against a broad spectrum of global fouling conditions.
Formulated using PPG's proprietary zinc methacrylate controlled surface active polymer (CSP) resin, PPG Sigma Sailadvance NX coating delivers ultra-premium performance with minimal speed loss of 1.0% to 1.5% on average over the operational period as well as improved fuel-saving capabilities and up to 15% CO2 savings.
The coating uses a binder formulation that provides real linear polishing that is unaffected by changing seawater temperatures and minimizes the development of a leached layer. Tests and applications with existing customers are claimed to show no performance loss over the period of operation, with the coating reliably achieving 45 days of idle-time protection.
It also contains an ultra-strong biocide package that targets a wide range of global fouling growth conditions, from bacterial slime and soft fouling to aggressive animal fouling.
By Jake Frith