Protective immersion suit specialist, White Glacier, showcased the latest in its hypothermia protection range at Seatrade Cruise Global in the US.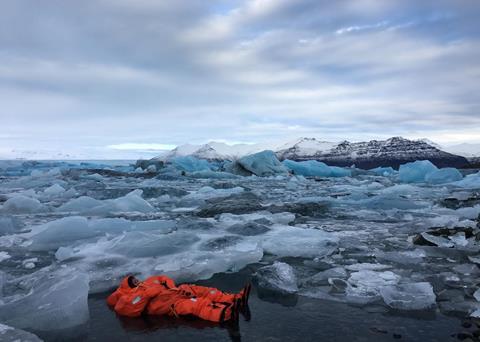 Rather novelly, White Glacier's exhibit at Seatrade Cruise Global featured a person wearing the Arctic 25 inside a 1,000-gallon ice water tank for 10 hours each day of the show.
Diego Jacobson, CEO of White Glacier, told Maritime Journal: "This innovative, patented immersion suit has been proven for 25 hours in 0°C water. The obvious initial focus is on the polar regions where it is now required to offer adequate thermal protection for all passengers and crew."
He pointed out that other markets which the company is also looking to target are the offshore oil and gas, luxury vessel, commercial fishing and research vessel market, as well as coast guards and navies.
"We will continue to develop other innovative products for maritime safety which we will then be distributing through our partner distributors," he added.
The Arctic 25 suit, which is made from a patented combination of cutting edge materials, is according to the company, the first of its kind and provides a real solution to hypothermia. It's certified by the US Coast Guard, Transport Canada and the MED.
Its design combines body temperature stabilising technology and a unique blend of materials to protect against the effects of hypothermia for up to and exceeding 25 hours, more than quadrupling industry requirements.
The suit is tailored to be partially donned in 15 seconds and completed once safely in the water. It can endure up to four seconds of engulfing flames and protects victims from high impact jumps overboard up to 10 metres, more than doubling the regulation amount.
Additionally, the Arctic 25 is fortified by heavy-duty pre-lubricated zippers and ready for action the moment they are extracted from storage to improve the odds of shipwreck survival. Once in the water, survivors can administer first aid, attend to hygienic needs and eat or drink while awaiting rescue.
White Glacier has just signed a distribution partnership with the Fassmer Company to distribute the suit globally.
By Anne-Marie Causer