Global maritime giants Svitzer and Titan Salvage recently announced the merger of their salvage divisions to be known as 'Ardent' (see 'MJ' June 2015) and already have two developments to report on.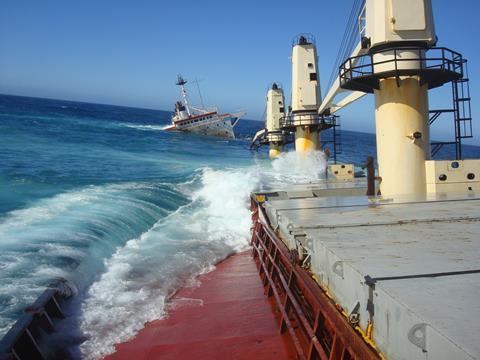 The newly formed company has joined forces with Spanish marine salvage, engineering and commercial diving company Ardentia Marine with the awarding of a contract to remove oil from the sunken fishing vessel Oleg Naydenov off the coast of Gran Canarias, Spain.
In April the vessel's crew were all safely rescued after a fire developed on board but despite the best endeavours of fire-fighters Oleg Naydenov sank in in an upright position in 2,700m of water around 15 miles offshore.
The Ardent, Ardentia joint venture quickly commenced operations at the site including installation of submerged oil receiving tanks to receive the collected oil for lifting back to the surface. To minimise potential environmental damage, subsea recovery domes will be installed over any areas of the wreck where leaks are detected.
A full salvage team are involved in the project utilising an ROV and surface-based heavy lifting equipment and the operation includes working in close coordination with La Sociedad de Salvamento y Seguridad Maritima (SASEMAR) to ensure all immediate and long term environmental threats are prevented.
In a separate development Ardent have announced the formation of a joint venture with what they describe as "South Africa's leading diving and marine service company" Subtech, part of the Cumbria UK based James Fisher and Sons plc group. Formed in 1995, Subtech have ISO 9001:2008 certification as well as full membership of the International Maritime Contractors Association (IMCA).
The new partner has a Sub-Saharan African presence through an infrastructure network with facilities and activities covering both East and West Africa in addition to its home territory of South Africa including its base in Durban. The new venture will based at their existing facility at Cape Town with supporting offices in Namibia, Mozambique and Mauritius.
Ardent and Subtech already have experience of working together through projects including the wreck removal of the bulk carrier Smart in Richard's Bay and the emergency salvage response to the stranded yacht Vestas Wind off the coast of Mauritius. The key objectives of the new joint venture are to increase responsiveness and operational capability throughout Sub-Saharan Africa and to provide the customers with services in an area which can be among the world's most challenging to operate in.
Neil Scott Williams, Director of Salvage at Subtech and General Manager of the joint venture said: "We couldn't be more thrilled to be partnering with Ardent, a company with a global reputation for emergency response and wreck removal," adding: "Our companies complement each other in a whole host of ways, and I see a wealth of opportunities ahead."
By Peter Barker