Global salvage contractor Ardent has responded under its OPA-90 Salvage and Marine Fire Fighting (SMFF) coverage programme to a fire onboard a roro passenger ferry off Puerto Rico.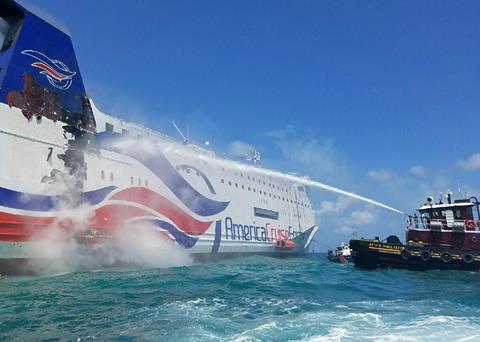 The Caribbean Fantasy was approaching San Juan on its regular service between Puerto Rico and the Dominican Republic when a fire was reported on board. Over 500 passengers and crew were evacuated from the ship by the US Coast Guard in an operation involving an immediate rescue response from port tugs and other agencies.
Caribbean Fantasy was covered under Ardent's OPA-90 SMFF programme and a salvage operation was launched under the command of Ardent salvage master Guy Wood. McAllister Towing is one of Ardent's OPA-90 partners and responded by deploying their tugs Brooklyn McAllister and Beth M. Mc Allister. Puerto Rico Towing and Barge and Moran Towing also provided tugs for the operation.
As well as the sea-borne aspects of the operation Ardent's response had two main elements. A diving survey carried out while the Caribbean Fantasy was still at sea found minimal damage to the hull, then with USCG approval the vessel was brought into port where a fire team boarded and extinguished the fire. The emergency response personnel and equipment were subsequently demobilized and the ferry was handed back to its owners just eight days after the fire started.
In a separate development, Ardent has announced it has formed a formal partnership with Spanish salvage, engineering and commercial diving company Ardentia Marine Group. Ardentia has a strong presence in Spain and Portugal and the arrangement will strengthen Ardent's position in that region.
Ardentia's roots lie in a number of sectors including the offshore oil and gas and renewable energy industries and it is has been emergency response and underwater services provider for the Spanish Coast Guard since 2009. Its portfolio of equipment includes saturation diving systems which are fully road-transportable, an important feature for salvage operations often involving the deployment of equipment to remote locations both onshore and offshore.
Ardent and Ardentia have worked together previously with the removal of oil from the submerged fishing vessel Oleg Naydenov using ROV technology in 2015 (see MJ July 2016). Other contracts completed by Ardentia include bunker fuel removal from the tanker Woodford in 85m of water in 2012 and wreck removal of the trawler Santa Ana off Spain.
Oliver Timofei, Ardent's director of emergency response said: "With this cooperation, Ardent is able to provide a two-tier response network of providing a joint approach between the two companies. We can also provide tailor-made preparedness services for governments and ship-owners." Jose Prat, technical director and naval architect from Ardentia Marine commented: "We have not failed a single job since our company's formation in 2009."
By Peter Barker