Located in Turkey in the Antalya Free Zone, Ares Shipyard has been focussing its new construction work mainly in the military sector with designs up to 100 metres in length. Now the yard is developing a range of designs using established design teams to expand its offerings into the commercial sector.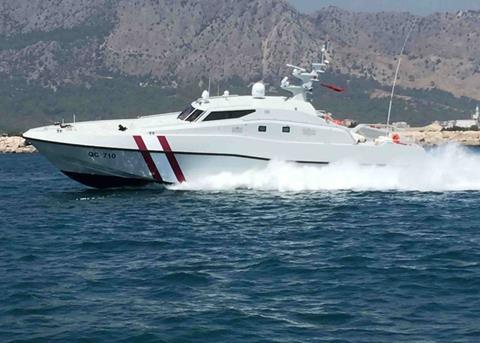 These new designs can meet the requirements of pilot boats, fireboats, survey and a variety of harbour craft roles.
Ares has developed its experience and a high level of skills in the design and building of military and para-military patrol vessels which have been delivered to a selection of navies, coast guard and maritime enforcement agencies around the world. The yard has been active in the commercial sector and the new designs on offer are focussed on expanding work in this sector. The shipyard is unusual in offering construction in aluminium, steel and composites. The latest deliveries from the yard are a series of 17 Hercules 75 patrol boats for Qatar
The yard was founded in 2006 and currently extends to 15000 square metres of undercover construction halls. This is being extended to 25,000 square metres complemented by wet berths and a full range of workshops. The yard has worked with a range of design teams including BMT Nigel Gee, Rolls-Royce Design, Gloss Design and KND Kobus Naval Design with other designs developed in-house.
Among the new designs is a 28.8 metre pilot boat to a design by Carmac for aluminium construction. Even larger is a 48.6 metre design also in aluminium that is focussed on search and rescue activities with the capability of coping with oil spills and other pollution operations. Another large aluminium design is 34 metre crew boat capable of carrying 76 passengers. Speeds range from 25 to 35 knots and the crew boat is one of several designs on offer for this role.
On a smaller scale the yard is offering its first RIB design, a 10.5 metre concept that can be constructed with an aluminium or composite hull. Powered by triple outboards this design has a speed potential of 62 knots.
High speed is also offered on a first response fire boat that can reach 50 knots with inboard diesel power. This 13.37 metre deep vee hull is designed for aluminium construction and features three fire monitors, one forward and two aft.
Designed for both military and civilian operations is a landing craft design capable of speeds up to 40 knots when powered by a pair of large outboards. This aluminium design has a length of 12.80 metres and has been design following experience with larger landing craft concepts.
By Dag Pike