The first fully classified Modular Multi Cat tug/workboat (MMuC) has been delivered by Damen to a tight deadline supporting dredging operations in the Caspian Sea.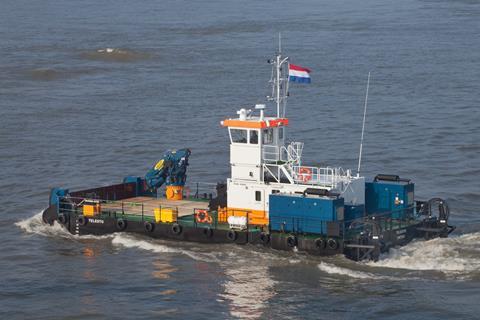 Dutch dredging specialist Van Oord has a substantial fleet of craft currently working in the Caspian Sea. Six are Damen-built vessels including four crew boats and two CSD 650 cutter suction dredgers, Ural River and Mangystau, both delivered last year. The new MMuC 2210, named Telesto will support the latter of these two under an 18-month charter agreement with Damen Marine Services.
A tight timescale for the 22m vessel lead to delivery just four months after contract signing with the bulk of construction carried out at Damen's Koźle yard in Poland followed by final fitting out at its shipyard at Gorinchem in the Netherlands.
Fast delivery was essential as the northern part of the Caspian Sea freezes over in winter requiring delivery of the vessel by March, the start of the operational season. A characteristic of the MMuC is its modular design, a feature it shares with its consort the Mangystau making it a relatively straightforward affair as explained by Freek Haagmans, Damen Design and Proposal Engineer: "The Telesto and all its components are completely containerised," adding: "We can load the whole lot onto trucks and drive it to Kazakhstan in about 12 days. The sea route, on the other hand, would take about 6 weeks for such a vessel.
"For operations in this part of the Caspian Sea, it is crucial to have a vessel with a shallow draught [and] with a draught of less than one metre, the MMuC 2210 certainly meets that condition."
Details of the Telesto worthy of mention include where it is provided with a modular accommodation unit complete with cooking and sleeping facilities for two persons, along with a 60t/m deck crane and a 30t winch to provide dredging support including the capability for anchor-handling.
Van Oord is the launch customer for Damen Marine Services with this particular MMuC, and the latter's managing director Rik van Prooijen comments: "We have to give credit to Van Oord as launching customer. Without them, we would not have started this project. Our role in this contract was an enabler. This is particularly important with a new design and short delivery time – this requires quick decision making and creative solutions."
The MMuC range comes in various sizes including 12m, 18m and 19m versions and of course the 22m example mentioned here and can accomplish many of the roles, albeit in scaled-down form as their larger cousins from the Multi Cat range. They are capable of pushing, towing, operations requiring cranes and supplying and are built up from container-sized units transportable to land-locked and remote areas.
By Peter Barker