Ireland-based Atlantic Towage & Marine Ltd has completed a 1,200-mile round trip into the Atlantic to rescue a disabled cargo ship.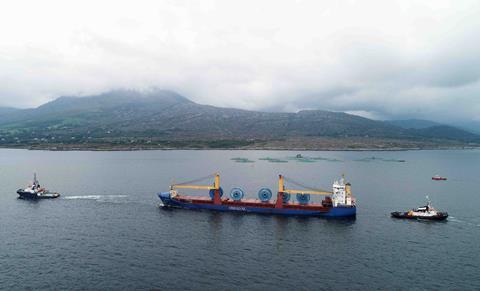 News of the rescue of Onego Rio is a reminder of the period in the 1920s when Dutch tugs of L. Smit & Co "ringed the Atlantic" maintaining salvage stations at Queenstown Southern Ireland, Falmouth in Cornwall, Douarnenez Bay in Brittany, the Azores, Bermuda and St John's Newfoundland. Tugs on salvage station may largely be a distant memory but the availability of tugs for ocean rescue towing is still alive and well.
The 7,576gt, 143m long Dutch-flagged general cargo vessel Onego Rios, with a crew of 12 was on passage from Panama City to Rosyth in Scotland when it lost power around 600 miles from Ireland's south west coast. The ship's owners contacted Atlantic Towage & Marine for help and the West Cork-based company's owner Sean Harrington quickly responded, allocating the tug Ocean Challenger for the task.
Ocean Challenger was built in Norway in 1994 as Thrax and along with its sister Silex provided tanker escort duties at Fawley oil terminal in Southampton Water for Solent Towage (Østensjø Norway) before starting its new career with Atlantic Towage & Marine. Built to a high specification, the 62tbp fifi1-equipped, ASD tug is capable of towing over both the bow and stern and fully equipped for ocean towing.
After a three-day passage, Ocean Challenger arrived at the stricken vessel's position a third of the way into the Atlantic towards Canada where a towing connection was quickly established and the long tow back to the Irish coast got under way.
After spending over a week at sea and completing the 1,200-mile round trip, tug and tow arrived safely at Bantry Bay where Ocean Bank, another tug from the Atlantic Towage & Marine fleet with an impressive pedigree joined the operation, connecting to the stern of the disabled ship to assist in steering. Built in the Netherlands in 1972, the 30tbp Ocean Bank started out life as the Schouwenbank for NV Nieuwe Rotterdamse Sleepdienst and will thus be well acquainted with assisting in rescue tows.
Mr Harrington said of the Ocean Challenger: "She's the only tug in Ireland capable of such a long-range operation, and of actually towing such a large ship back."
By Peter Barker