Coda Octopus Group, Inc. has announced that the Company and program lead, NAVSEA 00C3, have restarted the GEN 1.0 Diver Augmented Vision Display (DAVD) system roll-out program to the U.S. Navy fleet.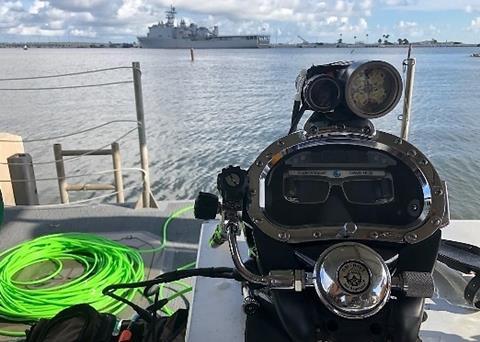 The DAVD technology, when coupled with one of CODA's real-time 3D Sonars, commercially branded Echoscope®, allows both divers in the water and supervisors on the surface to simultaneously visualize the diving environment in real time. The DAVD system was developed by CODA in conjunction with NSWC PCD and NAVSEA 00C3. The Gen 1.0 DAVD system, along with a number of CODA's Echoscope® models, are included in the Authorized for Navy Use (ANU) product list.
The Office of Naval Research (ONR), the project's sponsor through an ONR Future Naval Capabilities program, is pleased that the roll-out program of the ground-breaking diver management system is moving ahead with swift and eager adoption by the diving community. The first Navy Team to complete field training and receive delivery of a DAVD GEN 1.0 system is the NAVSEA Southeast Regional Maintenance Center (SERMC) Dive Locker, in Mayport, FL. This Dive locker specializes in Underwater Ships Husbandry diving to support the Fleet based in the Mayport area and, according to NAVSEA, the DAVD will be part of the dive locker team's routine and daily diving operations.
By Jake Frith