Norwegian ferry operator Fjord 1 is building two pure battery ferries to meet Norwegian Government requirements for zero-emission technology.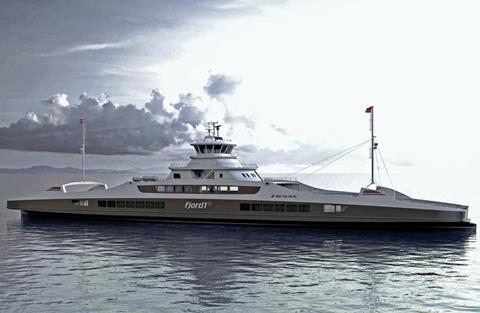 From January 2018, Fjord1 will be operating the two new battery ferries on the 2.4 km route between Anda and Lote on the west coast of Norway and this will be the first ferry connection in Norway where the Road Administration requires the use of zero-emission technology.
Although the Road Administration has allowed for partly hybrid operation, using biodiesel or biogas on the ferries, Fjord1 decided on using fully electric operation of the new ferries. Charging of batteries will be done through fully automatic charging stations at the quayside and battery capacity will be adequate to continue operations for several hours without charging.
Construction of the new ferries has started at the Tersan Shipyard in Turkey. The Norwegian ship design company Multi Maritime has developed the design, in close co-operation with Fjord1 and they will both have a cargo capacity of 120 cars and 12 trailers with the capability to carry 349 passengers.
A unique feature of these new ferries is that they will be automatically controlled during the crossing under the supervision of the captain with Rolls-Royce supplying the automated control system. Rolls-Royce vice president of marine innovation, engineering and technology
Oskar Levander commented, "This type solution will really change shipping as we know it. You do not want to waste too much time and energy with batteries, this is very important because the batteries need to be operated in the most efficient way."
Captains will be on the ferries supervising the system and navigation and intervening if necessary, and will only take over control in the last few minutes of docking the ferries. The automated system has been developed to allow for automatic docking as well in the future after experience with the system.
"Our automated control system has garnered a lot of interest from other areas, and from both big and small ferry operators." Levander said: "We have seen a lot of interest from big passenger ferries as they are going for the safety. There is a significant improvement in safety if you remove the human error factor. Most marine accidents are caused by human errors perhaps when the crew is fatigued but an automated system is alert all the time, which is a big benefit."
In a separate contract Fjord 1 has ordered three diesel electric ferries with a length of 66.4 metres and a beam of 14.2 metres to operate on other routes. These ferries will be built at the Havyard Ship technology yard in Norway and will feature an electric propulsion system developed by Siemens that will incorporate a 1 MW battery pack. The capacity will be 50 cars, 6 trucks and 195 passengers.
By Dag Pike