The Port of Hamburg is championing the first autonomous drone to be used for surveying waters in a bid to boost its technological capabilities.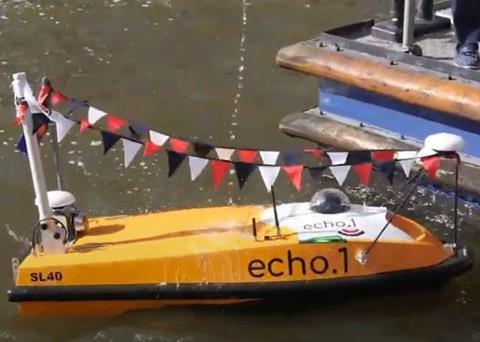 Due to its shallow draft, the small and easily manoeuvrable Echo. 1 drone can collect data in areas where a larger vessel wouldn't be able to reach. Equipped with an echo sounder, it can be used for a variety of purposes such as maintenance surveys and depth soundings.
Thomas Thies, head of hydrographic data acquisition at Hamburg Port Authority, said: "The Echo 1 is an unmanned surveying vehicle with a length of 1.60m and very low draft. It has lots of electronics onboard and the main component is the automatic navigation capability enabling it to travel set routes."
Multifunctional drone
Lots of systems can be mounted on top of the Echo 1, added Rike Verheyen. The echo sounder is attached to the underside of the drone, and a 3D scanner can be fixed on top of it. This means it can pass harbour walls and scan them in 3D while also measuring depth under it, she said.
In August 2019, the port authority worked with representatives of international hydrography institutes to establish how to integrate the drone into normal port traffic, taking into account how other navigators react to it, and making sure it operates safely, within the law.
Maintaining visual contact and providing a contact vehicle that can intervene if necessary is important, pointed out Jan Dlugosch of the HPA Harbour Master's Division.
By Rebecca Jeffrey