German wind farm giant Siemens is collaborating with U.S. company SkySpecs to deploy automated drone technology for offshore wind-turbine inspections. The goal is to develop a push-button inspection system that is faster, repeatable, and more efficient than existing methods.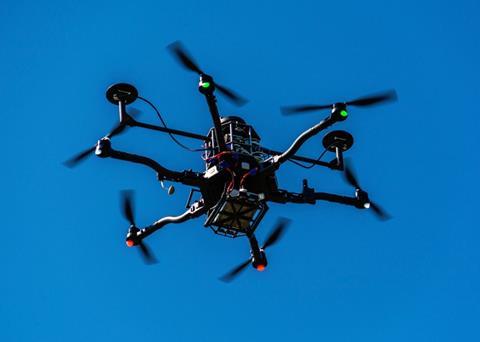 Siemens is involving its wind power business and its Next47 venture unit with SkySpecs, which is the first company to successfully demonstrate fully autonomous wind-turbine inspections.
According to SkySpecs, smaller and more powerful computing platforms and sensors, better battery technology, and vastly improved algorithms for managing the flight and safety aspects have transformed drones from a niche hobby into a global reality over the last three to five years.
High-precision applications, such as wind-turbine blade inspection, have unique requirements in terms of user input and navigation techniques. SkySpecs combines expertise in robotics, artificial intelligence, and machine-based analytics to advance industrial drone inspections. By using proprietary software and best-in-class, off-the-shelf hardware, the company's goal is to provide an end-to-end solution that includes data collection, damage identification, classification, and recommendations.
Siemens is collaborating with SkySpecs to refine its technology for utility-scale turbine inspections and to prepare it for commercial readiness. The joint effort will enable Siemens to incorporate more advanced preventive maintenance techniques using SkySpecs' technology. It will also provide significant data that can be used to inform customers about the lifespan of their asset or to gain insights into contributing causes of eventual failures. Automated inspections will lower operating costs substantially and potentially increase the efficiency and lifespan of wind turbines, outcomes to which both Siemens and SkySpecs are deeply committed.
"The autonomous drone technology supports our Digitalization@Wind initiative in generating high-quality field data about the condition of our wind turbines," said Ruediger Knauf, Siemens Wind Power Chief Technology Officer. "This is particularly valuable for our offshore business, where completing inspections quickly, safely, and cost-effectively is of critical importance."
SkySpecs' blade inspections are automated from start to finish, minimizing the need to allocate highly trained and expensive human resources to the job. The baseline solution allows drones to take off, capture high-resolution images of all four sides of each blade, return, and land in less than 15 minutes. The blades do not need to be stopped in any particular orientation and the captured data is uploaded to the cloud where it can be analyzed, annotated, and shared.
Data inspection and report generation are completed in a fraction of the time it takes to conduct ground-based or rope inspections. Automation offers the flexibility to conduct inspections on-demand rather than at set intervals. Every image is tagged with the data that customers need to locate, annotate, and make decisions about timing of blade repairs.
By Dag Pike