Technology company ABB has signed a contract with Singapore-based Keppel Offshore & Marine to enable autonomous tug operations in 2020.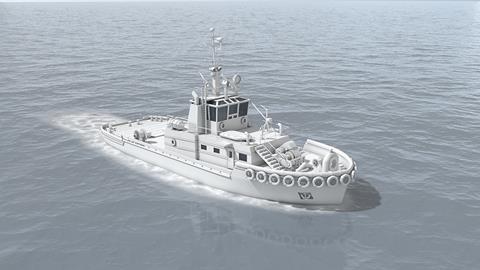 The global towing industry is experiencing the ever-widening influence of technology, particularly digitisation within the maritime world including development of various levels of remote-controlled and autonomous tug operation.
Southeast Asia as an example is one region providing a steady stream of such developments and this contract will see ABB in collaboration with Keppel Offshore & Marine's technology arm, Keppel Marine and Deepwater Technology develop technology for autonomous vessels including refitting a 32m harbour tug with "leading-edge digital solutions" aimed at introducing South Asia's first autonomous tug at the end of 2020.
During the initial phase of the project the vessel will be operated by Keppel Offshore & Marine's joint-venture company Keppel Smit Towage and complete a series of navigational tasks in a designated test area in the port of Singapore, steered from an onshore control centre. The second phase will include performing autonomous collision avoidance tasks while under remote supervision.
The trials aim to validate the increased safety and efficiency of tug operations by utilising digital solutions already available for almost any type of vessel along with ABB Ability's Marine Pilot Vision.
ABB is taking the next step towards autonomous shipping, building on the experience gained from the trial of a remotely-operated passenger ferry in Helsinki in November 2018, Juha Koskela from ABB Marine & Ports stating: "This project is a key marker on our digital journey as it demonstrates our capabilities as a leader in intelligent shipping technology and proves the success of our Electric. Digital. Connected. vision for the maritime industry," adding: "The intent of our technology is not to entirely remove the crew, but rather to relieve the crew from the tasks that can be automated and thus enable them to perform at their best during critical operations."
Tug conferences always provide interesting debate about the practicalities, indeed the necessity for autonomous tugs between those promoting the technology and the hardened end-users with generations of experience in conventional methods of operation. The advancement of associated hardware and software, often on the back of digitalisation technology in other areas provides an impression of an unstoppable tide sending the message not if but when.
By Peter Barker