BAR Technologies is set to contribute its solid wing sail expertise to the EU's Project CHEK to deliver two low-carbon concept ship designs.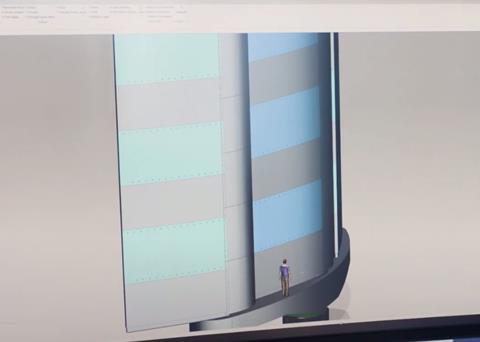 Set to start in June 2021, project CHEK will last for 36 months.
As the 2050 net zero deadlines come into sharper focus, the maritime industry has been grappling with the issue of carbon emissions. Vessels built in the next two decades will still be operational mid-century – requiring immediate, coordinated action on decarbonisation.
As no single technology can yet currently fully decarbonise shipping, the consortium has brought together leading firms and institutions in low carbon innovation across the maritime sector to deliver a Kamsarmax bulker and a Meraviglia class cruise ship. Both vessels will be targeting a 99% reduction in greenhouse gas emissions, at least 50% savings in energy, and a reduction in black carbon emissions of over 95%. These two vessel types currently constitute 85% of global greenhouse gas emissions from shipping, representing a key area for carbon savings.
BAR Technologies, set to be the first business to bring a new level of significant, annualised savings (up to 30%) via a wing sail to market, following its partnership with global commodities firm, Cargill, will apply its expertise in wind propulsion, developing a solid wing sail array for the Kamsarmax vessel. The vessel will also feature automated, optimised vessel routing, waste heat recovery, hull form optimisation, and a gate rudder. By designing the overall layout to optimise the benefits from the combination of technologies used, the efficiency savings will be maximised.
John Cooper, CEO, BAR Technologies, said: "Wind propulsion will be a cornerstone of low carbon shipping in future, with the versatility to deliver efficiency savings regardless of the powertrain used. However, it is most effective as part of a wider suite of decarbonisation technology, and especially when designed into the vessel platform from the beginning. We're excited to be a part of bringing this market first vessel to fruition to help the shipping industry tackle its crucial emissions challenge."
The project, 'deCarbonizing sHipping by Enabling Key technology symbiosis on real vessel concept designs', is part of the EU Horizon 2020 programme to accelerate innovation. The other consortium partners are the University of Vaasa (coordinator), World Maritime University, Wärtsilä, Cargill, MSC Cruises, Lloyds Register, Silverstream Technologies, Hasytec, Deltamarin, and Climeon.
BAR Technologies' CTO Simon Schofield will be presenting at the third in a series of Commercial Marine Network decarbonization webinars on Tuesday 9th February 10:00 - 11:00 UTC.
By Jake Frith