A&P shipyard in Falmouth, UK has upgraded a 60 metre barge with azimuthing thrusters and dynamic positioning controls to pitch for construction contracts in the marine energy market.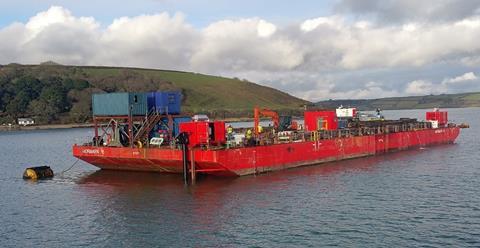 The £3m+ project was 50% funded by Innovate UK, the UK body responsible for stimulating and supporting business-led innovation, and was led by Bristol-based ITPEnergised. It combined the expertise of Falmouth-based marine construction contractor and vessel owner Keynvor Morlift Ltd (KML), dynamic positioning system developer Reygar, of Gloucester, and A&P Falmouth who provided the dry dock facility and carried out the modification and conversion works.
Earlier this year the consortium completed 5 ½ years of research and development, including a successful trial of the Mormaen DP1 Barge off Falmouth in March. The specialist barge comes with a substantially lower operating cost and charter rate compared to offshore DP vessels.
CONSTRUCTION PLATFORM
The DP barge project sets out to deliver a cost-efficient and versatile construction platform for the transportation, installation, maintenance and decommissioning of marine energy devices, and for a variety of marine construction and installation projects. This innovation is expected to significantly improve the commercial viability of the wave and tidal energy generation sector and accelerate market growth and maturity, as well as to boost the operability of barges on a variety of construction projects.
KML's 60mx22m flat-top barge, Mormaen 15, was selected to be fitted with the dynamic positioning system because of its versatility. It can be fitted out with a heavy lift deck crane, has a large deck space for devices, foundations, cargo, cable reels and a variety of other marine equipment, and when mobilised with its dynamic positioning system, costs a fraction of conventional DP vessels.
TWIN THRUSTERS
The Mormaen 15 was converted at A&P's shipyard in Falmouth and is propelled by twin 430kW removable deck mounted azimuth thrusters. Its Reygar StemTIDE dynamic positioning control system can be operated in automatic, weathervane and joystick modes, holding position to +/- 0.5m and control heading to +/-1 degree, operating in > 6kt tide & >25kt wind.
KML's Managing Director Diccon Rogers said, "This represents an exciting development for KML. The combination of KML's powerful thrusters and Reygar's DP system makes the Mormaen 15 a highly versatile and cost-effective stable platform for a variety of amphibious, nearshore and offshore applications including cable lay, wave and tidal energy installations, offshore wind construction and O&M, and marine civil engineering.
"In particular, the performance of Reygar's StemTIDE controller in challenging high current conditions makes the whole set-up on the Mormaen 15 uniquely rugged. We plan further DP thruster modularity throughout the KML barge fleet, including our crane barges. KML is already very active around the UK and Northern Europe and this new capability will open new sectors and markets for us, as well as further enhancing the performance of our versatile fleet."
The Mormaen DP1 will be deployed on tidal, wave and wind energy projects for transportation, installation, O&M and decommissioning works. With its new dynamic positioning system, it can also be used for survey, cable lay, subsea drilling and grouting, nearshore marine construction projects and salvage projects. Having made real progress towards reduction in marine energy generation life-cycle costs, KML will now be able to reapply this technology to other markets.
Having worked closely together on this and other projects, the consortium has developed into a very close and effective partnership. Keen to build on its success, the consortium intends to further develop the Mormaen DP1 into a DP2 system, increasing the redundancy of the DP system by adding thrusters and generators. Also, as the system is modular, KML plan to deploy the DP thrusters and controller throughout the KML barge fleet, including their heavy lift crane barges.
The consortium is very grateful to have received the full support from Innovate UK throughout the project and is looking forward to more ground-breaking innovations with their support.
By Jake Frith