With battery power for tugs gaining interest, news arrives of Damen's progress with 'Sparky' and Maersk's ordering of a battery pack for one if its most powerful anchor-handlers.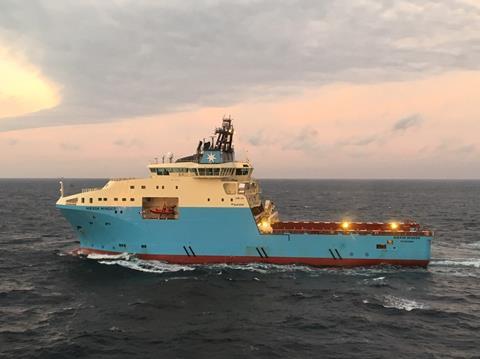 The arrival later this year of Sparky, Damen's first fully-electric tug for New Zealand's Ports of Auckland is awaited with interest and progress continues with installation of some 2,240 batteries totaling 2,784kWh in the RSD-E Tug 2513 currently under construction at Damen Song Cam Shipyard in Vietnam. The batteries are arranged in strings for redundancy whereby if one battery in a string fails the others carry on the work. The batteries in the zero-emissions tug will be capable of recharging to full capacity in just two hours.
Also of interest is news that Maersk Supply Service has chosen Wärtsilä to supply hybrid batteries for its 270tbp AHTS Maersk Minder with Maersk stating: 'To the best of our knowledge, this will be the world's first AHTS hybrid battery conversion.'
Large anchor-handlers such as Maersk's M-class vessels are in a different league to shiphandling tugs such as Sparky and a sign of the progress with hybrid technologies that battery power is increasingly found now in the offshore sector. Maersk Minder develops 23,000bhp from four Wärtsilä main engines powering twin CP propellers and no fewer than five transverse thrusters.
Hybrid battery/energy storage systems have experienced positive results in the PSV sector and Maersk expects a 15% reduction in CO2 emissions through reduced fuel consumption and it is the various roles, from heavy towing to DP subsea activities that modern AHTS vessels carry out involving changing power demands that suggests a role for battery hybrid options. Maersk is adopting Wärtsilä's Low Loss Hybrid battery system which the latter states, 'seamlessly integrates with a conventional engine like Maersk Minder.' Significant efficiency improvements are claimed by running the engines on optimal load and absorbing many of the load fluctuations through batteries.
Maersk Supply Service has a target to reduce its carbon intensity by 50% across its fleet by 2030 having achieved a reduction of more than 18% since 2018, this being another step along that road. Maersk Minder will operate in the North Sea from Q3 2021 with the battery installation planned for late 2021 or early 2022 depending on delivery time.
By Peter Barker