A six man team led by adventurer Bear Grylls completed a successful transit through Canada's notorious North West Passage earlier this month.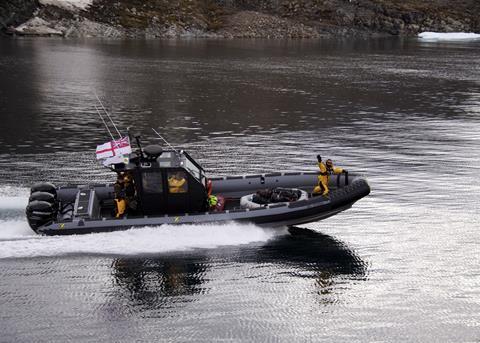 The team set out on 31 August to begin a 1,700 nautical mile westward journey from Pond Inlet on Canada's north eastern arctic coast and fought ice and extreme sea conditions before arriving unscathed at Tuktoyaktuk on 9 September.
The expedition has drawn attention to the effects of climate change upon ocean temperatures and demonstrated that a voyage previously considered impossible can now be accomplished in a high performance RIB. Although there were occasions when the boat had to be carefully navigated through labyrinths of icebergs and frozen water, there were many expanses of open sea where the RIB could be driven by its three Mercury 300 hp outboard engines to maintain speeds of over 40 knots.
During the ten day voyage sea conditions ranged from mirror smooth to ferocious Arctic gales. The 11m Zodiac Hurricane MACH II RIB had been customised for the expedition by Shockwave Engineering and Zodiac Hurricane in Canada. This included installation of the first Shockwave ICE (Integrated Control Environment), which provided shock mitigation seating within an integral console area. This enabled the crew and their instrumentation to withstand the continuous pounding that the RIB sustained while travelling at speed across ice-free water.
In addition to Bear Grylls, the team consisted of Tim Levy, whose company Future Capital Partners was a principal sponsor of the expedition. Dave Pearce was a helmsman and medical officer, Ben Jones was the RIB's engineer, David Segel was lead navigator and David Smith, owner of the RIB and president of Shockwave, was the main driver of the RIB.
Writing in the expedition diary Bear Grylls recalled their passage through Barrow Strait. 'Dave Segel helmed the boat with consummate skill, taking some seriously steep, narrow pitched waves and yet keeping the rest of us, and the boat, in one piece! The boat really came alive in his hands and we are all in awe of Dave Smith's work in producing what must be, by some distance, the world's most exceptional RIB.'
The boat has a unique aluminium Zodiac Military Air Channelled Hull (MACH) that directs air to the keel to reduce drag. Capable of speeds up to 62 knots it is the one of the world's fastest production RIBs and its only modifications were the addition of long range fuel tanks to contain over 2,000 litres of fuel and canvas spray covers and heaters. In addition to the 1,700 mile passage, the RIB also had to be sailed from Halifax, Nova Scotia and delivered to its starting point at Pond Inlet. It has now been collected from the expedition finish line at Tuktoyaktuk and is being driven around the coast of Alaska to Vancouver as the final stage of a journey that will cover a total of 5,700 nautical miles.
The Zodiac Hurricane RIB was supplied by the North American arm of Zodiac MILPRO (Military and Professional) which is based in Paris.
A full account of the expedition, its background and particpants can be found on http://www.fcpnorthwestpassage.com