Italian company Besenzoni has decided to introduce to the wider public its range of products designed for the commercial and military sectors.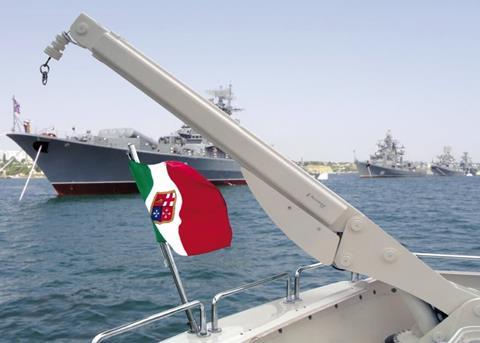 To date, among the products that the company manufactures for the commercial and military sectors are helm seats, gangways, boarding ladders, cranes, hydraulic handling systems, hatch openings, watertight doors and more.
The new range will include all those products that feature in the 'pleasure' boat range, reimagined and adapted for workboats, where choosing high-quality materials is just as important.
GANGWAYS
By applying the same technology used in the products in the pleasure boat range in terms of systems (hydraulic power unit, telescopic applications, remote control), the gangways designed for workboats do not feature all of the 'stylish' details unique to Besenzoni but incorporate materials that are more suitable for withstanding heavier loads. For example, these gangways, which are manually operated in smaller boats and automated in larger boats, feature an aluminium platform and much sturdier components, making them more suitable for the conditions they will encounter.
DECK CRANES
Specially designed to facilitate the movement of cargo to be loaded and unloaded in a marine environment, Besenzoni's cranes are made of powder-coated aluminium, which is both durable and reliable. The lifting capacity varies depending on the model or on the specific requirements.
HELM SEATSHelm seats are Besenzoni's flagship product, created around the key features of ergonomic design and sturdiness. They are packed with features and can be manufactured with a control unit incorporated into the armrests or the sides. They can be custom-made according to the client's specifications. They can include monitors, control handles and light switches, thereby creating the feeling of a genuine bridge. Cockpits have been designed in conjunction with the helm seats.
Besenzoni's aim in all products in its commercial range is to make vessels both easier to access and to operate.
By Jake Frith